Gram Stain (Gram stain procedure)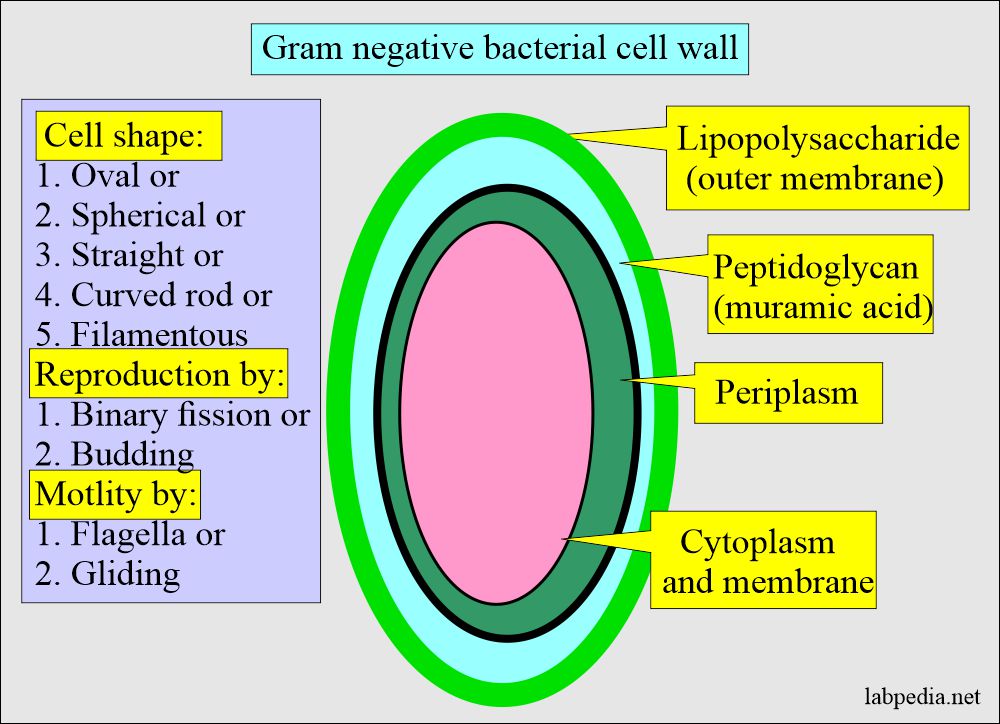 Gram Stain
Sample
Gram stain can be done on sputum, pus, tissue, and urine.
The sample can be obtained from the infected ulcer or wound.
The CSF may be stained.
Indications for Gram stain
Gram stain differentiates between gram-positive and gram-negative organisms.
To diagnose the presence of bacteria in sputum, pus, or any other tissue or fluids.
To diagnose bacterial meningitis.
It can stain yeast, and this needs to be reported.
History of Gram stain 
The name comes from its inventor, Hans Christian Gram. He published a gram stain method in 1884.

He was searching the organism and diagnosed pneumonia.

This is a special stain for diagnosing the gram-positive or gram-negative organism in various samples like sputum, pus, urine, etc.
It divides bacteria into two physiologic groups:

Gram-positive.
Gram-negative.

The gram-negative bacterial wall consists of four layers. The following diagram shows the layers of the wall.
The procedure of Gram staining:
It consists of four steps :
Fix the slide by heat.
Primary stain: Stain the slide smear with gentian violet or crystal violet. It will penetrate the cell membrane.
Mordant: wash the violet stain and flood the smear with the Iodine solution. This acts as mordant and forms a complex with Crystal violet.
Decolorizer: Wash off the smear and flood it with alcohol (95 %) or Acetone-alcohol mixture.

This will remove the outer cell membrane in gram-negative bacteria, where the complex will also be washed of.
 While in Gram-positive bacteria cell membrane remain intact, and the stain will not be washed off after alcohol treatment.
Decolorization with acetone or alcohol will lead to:

Gram-positive bacteria block the dye extraction (still, this step is unclear).
This step will decolorize gram-negative bacteria and not gram-positive bacteria.

Secondary stain: Counterstain the smear with safranin O, a red dye.

In gram-positive bacteria, counterstain cannot enter, so the bacteria are purple.
While in gram-negative bacteria, safranin can enter and give pink color.
Results of gram stain 
Gram-positive bacteria are blue-purple.
Gram-negative bacteria are pink magenta.
Morphological classification of gram stain bacteria:
| | |
| --- | --- |
| Type of microorganism | Morphology in gram stain |
| Bacillus | Gram + thick spore-forming bacilli |
| Streptococcus pneumoniae | Gram + lancet-shaped diplococci |
| Staphylococci | Gram + cocci as grape-like clusters |
| Streptococci | Gram + cocci in chain |
| Neisseria | Gram – kidney-shaped diplococci |
| Cronybacteria | Gram + small bacillus in Chinese letter |
| Vibrio | Gram – curved rods |
| Clostridia | Gram + thick spore-forming spores |
| Listeria | Gram + small bacilli |
| Actinomyces | Gram + branching, filamentous, bacilli |
| Enterobacteriaceae | Gram – straight barrel-shaped rods |
Examples of Bacterial Infections:
Gram-positive cocci infections:

 

Staphylococcal aureus can cause skin infections and toxic shock syndrome.

Gram-negative cocci infections: 

N.meningitidis causes meningitis. N.gonorrhoeae causes gonorrhea.

Gram-negative bacilli infections: E.coli causes urinary tract infection.

Gram-positive bacilli infections: B.anthracis leads to skin infection and pneumonia. Listeria monocytogenes may cause food-born infection.
Viruses do not stain with gram stain.
---