Follicle Stimulating Hormone (FSH) (Follicular Stimulating Hormone), Follitropin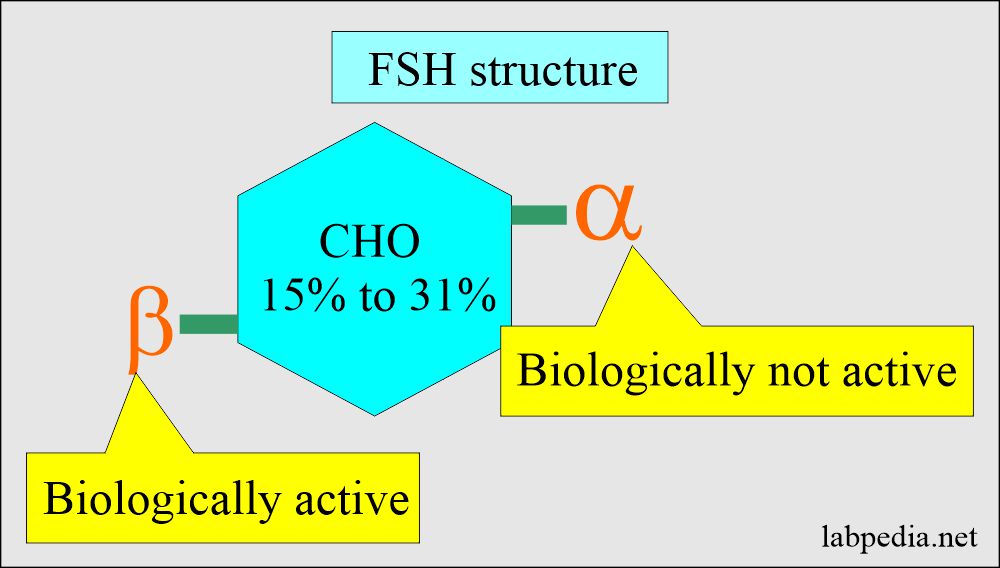 Follicle Stimulating Hormone (FSH)
Sample for follicle-stimulating hormone
It is done on the serum of the patient.
Record the date of the last menstrual cycle in women.
It is important to measure both

FSH

and LH levels.
Plasma and urine are also acceptable.
Sample stable 8 days at room temperature.

2 weeks at 4 °C.

The urine sample should not contain preservatives.

Storage at or below -20 °C is recommended.
3 hours of urine samples are preferred.
Purpose of the test (Indications) for FSH
FSH

(along with LH) helps find whether the gonadal deficiency is of the primary origin or secondary due to insufficient pituitary hormone stimulation.

FSH

level helps to find the cause of hypothyroidism in women.

FSH

level helps to find the cause of endocrine dysfunction in men.

FSH

and LH are helpful in children with precocious puberty due to endocrine causes.
In the case of the Anovulatory cycle (infertility problems), serial estimation to see the peak in mid-cycle will be missing.
In primary ovarian or testicular failure,

FSH

is helpful to find an increased level.
FSH Help to find the cause of infertility.

FSH

testing is commonly used to evaluate:

Woman's egg supply (ovarian reserve).
Men's low sperm count.
To evaluate menstrual problems, such as irregular or absent menstrual periods (amenorrhea).

FSH can help to determine whether the woman has gone through menopause.

FSH level is done in menopause.

FSH level is done in the case of abnormal vaginal or menstrual bleeding.
In men where there are no testicles or underdeveloped.

In children, the FSH level is done if there is delayed puberty.
FSH determines early puberty (also called precocious puberty ) or delayed puberty.

In children, the FSH level is done who develop sexual features at a very younger age.
FSH diagnoses certain pituitary gland disorders, such as tumors.
Precautions for Follicle-stimulating hormone (FSH)
Avoid hemolyzed, lipemic, or icteric samples.
HCG and TSH may interfere with some immunoassay. So patients with HCG-producing tumors and Hypothyroidism patient will have a falsely high level.
The recent administration of radioisotopes interferes with radioimmunoassay estimation of FSH.
Characteristic features of the Pituitary gland
The pituitary gland is located at the base of the skull and in the bone cavity called sella turcica.
Pituitary gland measures <1 cm in width and length, weighing around 500 mg.
It is divided into:

Anterior pituitary gland (adenohypophysis).
Posterior pituitary gland (neurohypophysis).
The intermediate lobe is rudimentary in human adults.
Pathophysiology of Follicle-stimulating hormone (FSH)
FSH is synthesized in the adenohypophysis (anterior pituitary gland).

FSH

is a glycoprotein secreted by the anterior pituitary with a molecular weight of 32kD.
It consists of carbohydrates and two units of alpha and beta.

FSH

is produced and stored in the pituitary gland.
When the alpha-unit combines with the beta-unit, the biological activity increases for specific receptor recognition. Now beta-subunit is responsible for specific biological responses.
Functions of the follicle-stimulating hormone
The anterior pituitary gland secretes FSH and LH hormones, and these are given the name of gonadotropins.

FSH is present in the plasma of males and females of all ages.

Needed for the development of mature ova.
It is also needed for the development of spermatozoa in males.
FSH is needed for the pubertal development and function of the ovary and testes:

Stimulate the growth and the maturation of the ovarian follicles in the female.
FSH stimulates estrogen secretion.
FSH promotes endometrial changes in the proliferative phase of the menstrual cycle.

FSH binds the Sertoli cells and promotes the synthesis of androgen-binding protein; this protein binds the testosterone.
FSH stimulates spermatogenesis.
The

FSH

level can help determine whether male or female sex organs (testicles or ovaries) are functioning properly.
Follicle-stimulating hormone (FSH) effects in males and females:
FSH

is under the control of:

Hypothalamic-gonadotropin hormone (G N R H).
Ovarian estrogen and progesterone in females while testosterone in males is low.

FSH

acts on granulosa cells of the ovary and Sertoli cells of the testes.

FSH

level increases at the time of puberty in both sexes.

The amount of

FSH

varies throughout a woman's menstrual cycle and is highest just before ovulation.

There is a sharp rise of FSH and LH  from the basal level just before ovulation in ovulating females.
FSH stimulates the formation of the follicle in the early stage of menstruation.

The great increase in FSH and LH occurs in women after menopause and remains elevated for the rest of life.
In males,

FSH

and LH are necessary for the maturation of spermatozoa.
A surge of LH leads to ovulation from the primed or active follicle in the mid-cycle.
It is one of the female hormones In women.

FSH

helps control the menstrual cycle and ovulation by the ovaries.
In men,

FSH

helps control the production of sperm. The amount of

FSH

in men normally remains constant.
Normal FSH
Source 1
| | | |
| --- | --- | --- |
| Age | mIU/mL    Male | mIU/mL  Female |
| Prepuberty child | | |
| 2 to 11 month | 0.19 to 11.3 | 0.10 to 11.3 |
| 1 to 10 years | 0.3 to 4.6 | 0.68 to 6.7 |
| Puberty Tanner stage | | |
| 1 -2 | 0.30 to 4.6 | 0.68 to 6.7 |
| 3 to 4 | 1.24 to 15.4 | 1.0 to 7.4 |
| 5 | 1.53 to 6.8 | 1.0 to 9.2 |
| Adult  | 1.42 to 15.4 | |
| Follicular phase | | 1.37 to 9.9 |
| Ovulatory phase | | 6.17 to 17.2 |
| Luteal phase | | 1.09 to 9.2 |
| Postmenopausal | | 19.3 to 100.6 |
To convert into SI units x 1.0 = IU/L
Another source
Women before puberty = 0 to 4 mIU/L
Menstruating women

Follicular  = 5 to 20 IU/L.
Ovulatory phase = 30 to 50 IU/L.
Luteal phase = 1.09 to 9.2 IU/L.

Women post menopause = 19.5 to 100.6. IU/L.
Men before puberty = 0 to 5 mIU/L

Men during puberty = 1.42 to 15.4. IU/L
Men  adult = 1.5 to 12.5 IU/L.

Children:

Male = 0.3 to 4.6 IU/L.
Female = 0.68 to 6.7 IU/L.
Source 2
Sex
LH IU / L

FSH

IU / L
Adult
Male
1.24 to 7.8
1.4 to 15.4
Female
Follicular phase
1.68 to 15
1.37 to 9.9
Ovulatory phase
21.9 to 56.6
6.17 to 17.2
luteal phase
0.61 to 16.3
1.09 to 9.2
Postmenopausal
14.2 to 52.3
19.3 to 100.6
Child
1 to 10 years: male
0.04 to 3.6
0.3 to 4.6
1 to 10 years: female
0.03 to 3.9
0.68 to 6.7
(Values vary from lab to lab. above data is from two sources)
Hormone cycles in the menstrual period:
| | | | | |
| --- | --- | --- | --- | --- |
| Phase of cycle | LH | FSH | Progesterone | Estradiol |
| Follicular phase | low | High | low | low |
| Late follicular phase | High | low |  lower limit | high |
| Mid-cycle | Peak |  raised |  increasing | low |
| Luteal phase | raised | raised |  high | high |
| Start of Next cycle |  low | rising |  rising |  rising |

Hormones in the menstrual cycle
High
FSH

values in a woman:
Loss of ovarian function before age 40 (ovarian failure).
Polycystic ovary syndrome (

PCOS

).
Menopause has occurred.
Pituitary adenoma.
Precocious puberty.
Ovarian dysgenesis ( Turner syndrome ).
High

FSH

values in a man:
Klinefelter syndrome ( Testicular dysgenesis ).
Testicles are absent or not functioning properly.
Testicles have been damaged by a disease, such as alcohol dependence, or treatments like X-rays or chemotherapy.
High values in children may mean that puberty is about to start.
Complete testicular feminization syndrome.
Decreased

FSH

values are seen in:
Pituitary failure.

Hypothalamic failure.

Stress.

Anorexia nervosa.

Malnutrition.
Low values indicate:
A woman is not producing eggs (prevents ovulation) leads to infertility.
A man is not producing sperm.
The hypothalamus or pituitary gland is not functioning properly.
A tumor is present that interferes with the brain's ability to control

FSH

production.
Stress.
Starvation or are being very underweight.
---