Folic Acid and Folate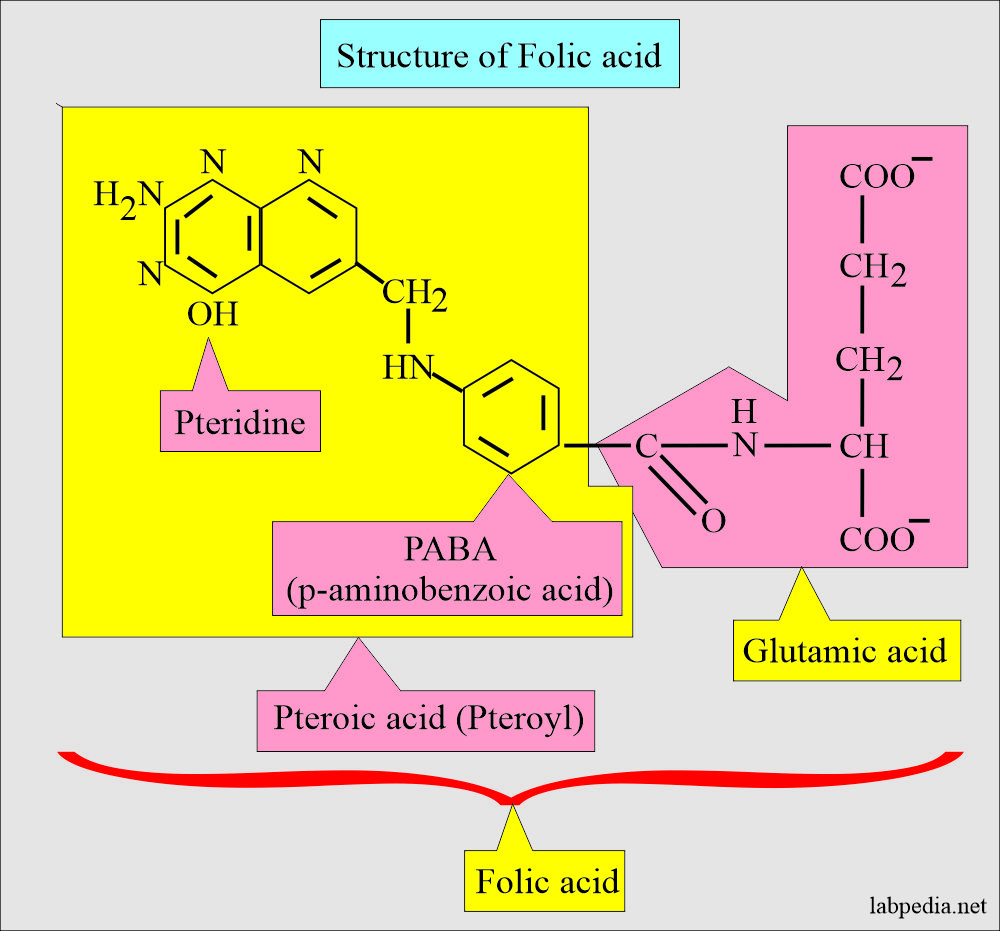 Folic Acid
Sample for Folic acid
Fasting venous blood is needed to prepare the serum.

Some of the labs take a sample without fasting.
Protect the blood from light.

If RBCs folate is needed, then take blood in

EDTA

.
The sample is stable for 24 hours at 4 °C.

6 to 8 weeks at -20 °C.

Also, perform hematocrit.
Avoid hemolysis.
Avoid repeated freezing and thawing.
Precautions for folic acid
Certain drugs decrease folic acids like Alcohol, PAS, Ampicillin, Antimalarial, Erythromycin, Methotrexate, Oral contraceptives, Chloramphenicol, Penicillins Phenobarbital, Aminopterin, Tetracyclines, and Phenytoin.
Avoid administration of radionuclide for at least 24 hours.
Hemolysis gives a false elevated level.
Iron deficiency anemia gives a false increase.
Draw blood before the administration of the injection of B12.
Purpose of the test (Indications) for folic acid
It is advised in megaloblastic anemia.
This test is advised in :

To rule out the folic acid deficiency.
In iron-deficiency anemia.
In Hypersegmented neutrophils.

It is advised in pregnancy.
Definition and structure of folic acid and Folate
Folic acid and Folate term is used for a family of compounds related to Pteroic acid.

Folic acid or pteroylglutamic acid is the parent compound of the folate complex.

Folacin is the generic term for folic acid and related substances that have activity of the folic acid.
Folic acid or folates consists of:

A pteridine is a base.
It is attached to one molecule of p-aminobenzoic acid.
And glutamic acid.
Pteridine and p-aminobenzoic acid are called Pteroyl.
Rest names are given according to the number of glutamic acids, such as pteroyl monoglutamate or pteroyl polyglutamate.
Folic acid /folates are a generic term for a family of compounds that function as coenzymes for processing one-carbon units.
Another definition:

Pteroic acid, when combined with one molecule of L-glutamic acid, will form pteroylglutamic acid (Folic acid).
It will reduce to dihydrofolic acid or tetrahydrofolate. These reduced forms are biologically active.

Folic acid and folates are forms of water-soluble vitamins like Vit. B 12.
Folic acid facts:
Humans cannot synthesize p-aminobenzoic acid or attach the glutamic acid to pteridine.
This is the reason that folates occur naturally in food like:

Yeast.
Liver.
Leafy vegetables.
While folic acid is the synthetic form of vitamins.

The Folate activity is around 95% in the RBCs.

The activity in the serum is about 40% and is protein bound.

Vitamin B12 and Folate are linked by the transfer of the methyl group from the 5-methyltetrahydrofolate (5-MTHF).

In the case of cobalamin deficiency, 5-MTHF is metabolically inactive.
The requirement of folic acid:
A normal diet consists of 500 to 700 µg of Folate, and 50 µg are absorbed daily.

Another source says that the normal dietary intake of Folate is 200 to 250 µg.

The minimum daily adult requirement is 100 to 150 µg.

Another source says daily requirements are 60 to 280 µg to replace the losses.

The body store is 10 to 12 mg and is sufficient for 4 months (another source= storage for one month).

Another source says total body stores are 12 to 28 mg.
Synthesis and site of absorption of folic acid:
Its absorption site is the duodenum and jejunum.
The bacteria form folic acid in the intestine.
Folic acid is stored in the liver.

Liver biopsy shows half of the body's stores of folates.

0.5  to 1% of the body's stores are catabolized or excreted daily.
The intestinal enzyme cleaved folate derivatives in the diet to monoglutamyl Folate for absorption.
Enzyme folate reductase reduces it into tetrahydrofolate by using NADPH as a doner.
Sources of folic acid/folates:
 It is present in:

Eggs and milk.
Leafy vegetables (spinach, broccoli, and lettuce).

Okara, and asparagus.

Fruits (bananas, melons, lemons).

Orange juices and tomato juices.

Beans, yeast, mushrooms,  and meat (beef liver, and kidney).
Liver.
Yeast.
Orange juice.

Folic acid is added into:

Cereals.
Bread.
Flour.
Pasta.
Bakery items.
Cookies.
This is stable in acid solution and rapid absorption in the empty stomach.

This is unstable in light.
Supplemental folate absorption is 100% as a comparison to dietary folates.
Functions of the Folic acid/Folate:
Folic acid produces and maintains new cells.
It prevents changes in the DNA, which may lead to cancer.
Folic acid is needed for the normal function and maturation of RBCs and WBCs.
Folic acid is a potent growth promotor, and it depends upon the normal functioning of the intestinal mucosa for absorption.
This is also needed for the synthesis of purine and pyrimidines.
Folic acid is needed to synthesize purines and pyrimidines, a precursor of

DNA

.
Folic acid is needed for the

DNA.

It is a hypothesis that folic acid is involved in congenital abnormalities.

Methylation of homocysteine to methionine.

Methionine is converted to S-adenosylmethionine, a universal donor of a methyl group to:

DNA.

RNA.

Hormones.

Neurotransmitter. 

Membrane lipids.

Proteins.

The elevation of homocysteine concentration has shown an increased risk for coronary artery disease and cerebrovascular disease.
Folates occur naturally in foods, and folic acid is the synthetic form.
Folic acid has been added to cold cereals, flour, bread, pasta, bakery items, cookies, and crackers, as required by federal law from 1998.

Foods rich in folates are spinach, lettuce, broccoli, okra, asparagus, and rich fruits, including bananas, watermelon, lemon, orange juice, and tomato juices.
Folic acid is present in the egg, milk, yeast, liver, fruits, leafy vegetables, and fruits.
Folate is also present in beef liver and kidneys.

Folic acid is a more potent growth factor than Vit.B12.
Determination of serum folic acid and

RBC

folic acid is the best measure to rule out folic acid deficiency.
Vit B12 is needed to incorporate folic acid into tissue cells.
Deficiency of folate results from:
The absence of intestinal bacteria (sterilized gut).
Poor intestinal absorption may be seen after surgery or sprue.
Insufficient dietary intake.
Excessive demands as in pregnancy, liver diseases, or malignancies.
Treatment with antifolate drugs like methotrexate anticonvulsant therapy.
In alcoholics.
Megaloblastic anemia is the major manifestation of folate deficiency.
Toxic effects of an overdose of folates:
Can Precipitate neuropathy in patients having a deficiency of Vitamin B12.
It masks the vitamin B12 deficiency.
This may delay the treatment of deficiency and allow progress to the neuropathy.
Normal Folic acid and folates:
Source 4
Adult (fasting) = 3 to 20 ng/mL,  (11 to 57 nmol/L)
Adult (serum) = 2 to 20 ng/mL,  (4.5 to 45.3 nmol/L)
Children (serum) = 5 to 21 ng/mL (11.3 to 47.6 nmol/L)
Infants = 14 to 51 ng/mL (31.7 to 115.5 nmol/L)
RBCs folate:

Adults = 140 to 628 ng/mL (317 to 1422 nmol/L)
Children = >160 ng/mL (>362 nmol/L)
Another source
<60 years adults = 1.8 to 9.0 ng/mL  (4.1 to 20.4 nmol/L)
>60 years adults = 1.2 to 12 ng/mL (1.2 to 12 nmol/L)
Dietry folate equivalent (DEF) is dietry daily requirements of the body:
0 to 6 months DEF     =   65 µg/day.
1 to 3 years DEF    = 150 µg/day.
4 to 8 years  DEF            = 200 µg/day.
9 to 13 years DEF    = 200 µg/day.
19 years to older DEF = 300 µg/day.
14 to 18 years DEF     =  300 µg/day.
Pregnant women  DEF = 600 µg/day.
Source 1
Normal Folate
2 to 16 years = 5 to 21 ng/mL.
>16 years = 3 to 20 ng/mL.
To convert into SI unit x 2.265 = nmol/L
Source 2
Normal folic acid (Folate)
5 to 25 ng/mL (11 to 57 nmol/L)
Another source
Adult fasting serum folate = 3  to 20 ng/mL (7 to 45 nmol/L).
Source From Medscape
Adult = 2 to 20 ng/mL
Children = 5 to 21 ng/mL
Infants = 14 to 51 ng/mL
The folic acid used to treat:
Memory loss.
Age-related hearing loss.
Alzheimer disease.
It reduces the aging effect.
Sleep problems, nerve pain, depression, and muscle pain.
In a patient with methotrexate treatment.
Some people recommend preventing colon cancer and cervical cancers.
Increased level of folic acid seen in:
Pernicious anemia.
Massive blood transfusion in recent times.
Vegetarian food contains more folic acid.
Decreased level of folic acid seen in:
Malnutrition.
Malabsorption syndrome, e.g., Sprue, Celiac disease.
Pregnancy.
Hemolytic anemia.
Megaloblastic anemia.
Liver diseases.
Malignancies.
Chronic renal disease.
Vit.B12 deficiency.
Malignant tumor-like metastatic carcinoma, acute leukemias.
Myelofibrosis.
Crohn's disease.
Ulcerative colitis.
Intestinal resection and jejunal bypass procedure.
In chronic alcoholics.
In the case of anorexia nervosa.
Drugs that act as an antagonist to folic acid are:

Anticonvulsant.
Methotrexate and aminopterin.
Antimalarial.
Heavy use of antacids.
Oral contraceptives.
---