Fluid Analysis – Part 8 – Synovial Fluid Analysis (Normal and Abnormal), Arthrocentesis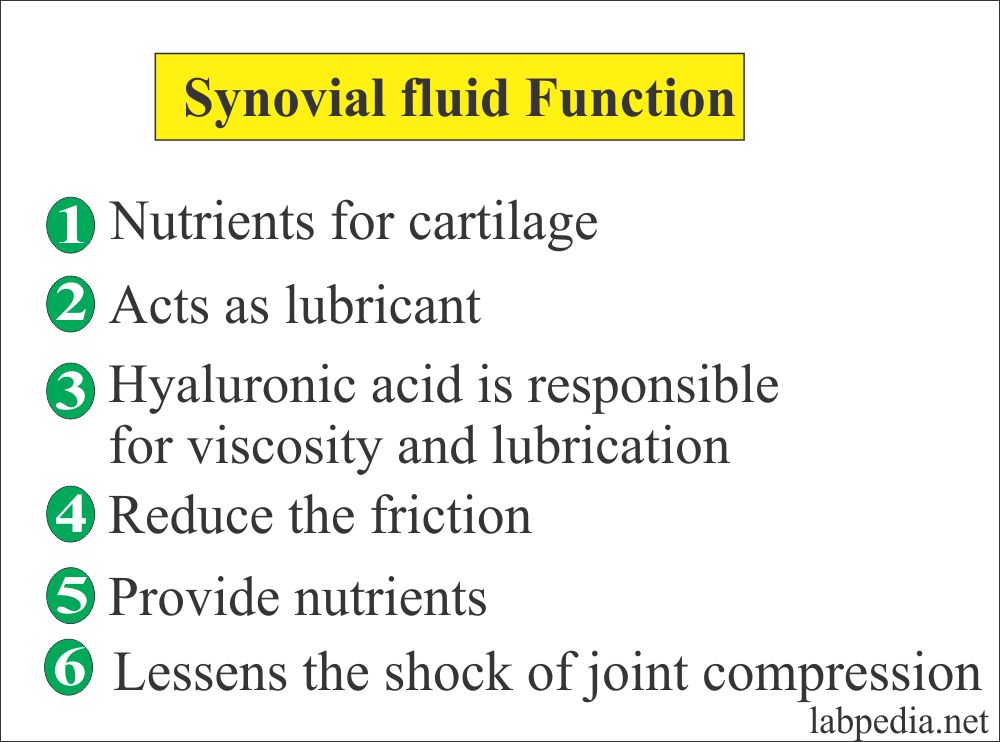 Sample
Synovial fluid is the aspirated fluid from the synovial spaces is called Arthrocentesis.
Collect specimen in three tubes:

Tube 1 for culture.
Tube 2 for microscopy, add heparin and not use

EDTA

.
Tube 3 for chemistry.

For glucose, the patient should have 6 hours fast.
Synovial fluid can be aspirated from joint of:

Knee.
Shoulder.
Elbow.
Wrist.
Ankle.
Hip.
Precautions
Powered anticoagulants should not be used, because this may interfere with crystal analysis.
The non-anticoagulant test tube should be centrifuged to prevent the cellular elements from interfering with the chemical and serologic analysis.
All testing should be done as soon as possible to prevent cellular and possible changes in the crystal.
Purpose of the test (Indications)
To diagnose the cause of synovial fluid formation.
To differentiate inflammatory to non-inflammatory causes.
Arthritis due to crystals like gout and pseudogout.
Malignant tumor involving the joint.
To inject anti-inflammatory medicines like corticosteroids.
To monitor chronic arthritic diseases.
Pathophysiology
Definition: This is often referred to as joint fluid which is the viscous fluid found in the cavities of the moveable joints.

Composition: Synovial fluid is formed as an ultrafiltrate of plasma across the synovial membrane.

This filtration is nonselective except for the exclusion of high molecular weight proteins.
The contents of the synovial fluid are similar to the plasma values.

This synovial fluid normally does not clot. But in inflammation due to increased fibrinogen may clot.

The synovial cells lining the synovium secrete a mucopolysaccharide containing the hyaluronic acid and a small amount of the protein.

This hyaluronic acid causes noticeable viscosity of the synovial fluid.

The smooth articular cartilage and synovial fluid reduce friction between the bone during joint movements.
Synovial fluid is present normally in a very small amount. The amount in the large knee joint is less than 3.5 mL.

This fluid collection can increase in the inflammation and maybe around 25 mL.

Synovial fluid contains mucopolysaccharides called hyaluronic acid which is responsible for the viscosity of the synovial fluid and lubricates the joints.
An increase in a synovial fluid enough to aspirates is due to some disease.
Synovial fluid supplies nutrients to the cartilage and acts as a lubricant to the joint, bursa, and tendons sheaths.
There are following types of arthritis:

Damage to the articular membrane produces pain and stiffness in the joints, this is referred to as arthritis.
Noninflammatory arthritis is seen in osteoarthritis, trauma, neuropathic osteo arthroscopy, pigmented villonodular synovitis, and osteoarthritis dissecans.
Inflammatory or crystal-induced arthritis is due to rheumatoid arthritis, psoriatic arthritis, ankylosing spondylitis, and pseudogout (chondrocalcinosis).

In the inflammatory or crystal-induced arthritis, there are predominantly polys.

Septic arthritis may be due to bacteria, tuberculosis, viral, and fungal.
Hemorrhagic arthritis is due to trauma, synovioma, and pigmented villonodular synovitis.
| | |
| --- | --- |
| Etiological classification | Clinical significance |
| Non-inflammatory | Degenerative joint disease (Osteoarthritis) seen in old age |
| Inflammatory | An immunologic disorder like Rheumatoid arthritis, and SLE |
| Septic | Due to microbial infection |
| Hemorrhagic | Coagulation factor deficiency, and traumatic injury |
| Due to crystals | Uric acid in gout |
In Gout fluid will show characteristic crystals.

There is increased fluid uric acid.
There are monosodium urate crystals.
There are increased monocytes.

Calcium pyrophosphate is present in chondrocalcinosis (pseudogout).
Cholesterol is common in chronic arthritis. These are birefringent, square plate-like crystals with notched corners.
Synovial glucose level: Synovial fluid glucose level falls with increasing severity of the inflammatory process.

This is the lowest in septic arthritis. This may be 50% less as a comparison to serum glucose levels.
Glucose is also low in rheumatoid arthritis.

In bacterial arthritis, there is an increased level of protein and lactate.
Rheumatoid arthritis shows more lymphocytes (lymphocytosis).
Gram stain is done for the diagnosis of:

Gonorrhea.

AFB stain is done to rule out tubercle bacilli.
Complement level is done which is low in:

Systemic lupus erythematosus.
Rheumatoid arthritis.

Cholesterol crystals are found in rheumatoid arthritis.
Procedure for arthrocentesis:
Sterile the area with an antiseptic solution.

It can give local anesthesia to decrease the pain.
Lie the patient on his or her back with the joint fully exposed.
During aspiration, the joint may be wrapped with an elastic bandage to compress free fluid within a certain area to get maximum fluid.
Insert a sterile needle into the joint space and get the synovial fluid for analysis.
If corticoid steroids needed to be injected, in that case, connect the already filled syringe with the aspiration needle.

Also, collect the blood for the comparison of the chemicals.
Aftercare: Note the severity of the pain.

Apply ice packs to decrease the pain and swelling.
Keep the pressure dressing to decrease the collection of fluid or hematoma formation.
Avoid strenuous exercise for the next several days.

Contraindication: Avoid if there is skin or wound infection in the aspiration site because of the risk of sepsis.
Complication: There is a risk of joint infection and hemorrhage in the joint area.
Source 1
Normal constituents of the synovial fluid:
Features
Physical features
Volume
<1.5 mL
Color
Pale yellow
Clarity
Clear
Viscosity

Can form a string 4 to 6 cm long due to high concentration of hyaluronic acid

Good mucin clot

Microscopic 
RBC count
<2000/cmm  (0 to 2000/cmm)
White cell count
<200 /cmm (0 to 200/cmm)
Polys
<20% of the differential
Lymphocytes
<15% of the differential
Monocytes
65% of the differential
Macrophages
 variable in number
Crystals
Negative
Chemicals
Glucose
<10 mg/dL lower than the blood level
Total protein
<3 G/dL (1 to 3 G/dL)
Lactate
<250 mg/dL
Uric acid
This is equal to the blood level (male = 2 to 8mg/dL and female = 2 to 6 mg/dL)
Culture
Negative

Showing findings in different types of arthritis leading to synovial fluid formation:
Test
Noninflammatory
Inflammatory
Septic
Hemorrhagic
Color
yellow, clear
yellow to white
yellow to green
red to brown
Viscosity
high (good)
low
low
low

TLC

cmm
<5000
10,000 to 100,000
10,000 to 200,000
50 to 10,000
Etiology (causative agent)
Degenerative joint disorder
Immunologic, Rheumatoid, lupus
Staph. Aureus, H.influenzae,
Strep, pneumococci, Neisseria
Trauma, anticoagulant
therapy.
Polys %
<25
>50
>75
>25
Protein g/dL
<3.0
>3.o
>3.0
>3.0
Lactate mg/dL
normal
normal to high
>250 positive
normal
glucose serum /fluid mg/dL
<10
>25
>25
<10
Glucose
normal
decreased
decreased
normal
Laboratory tests advised are:
Fluid analysis including:

WBC count.
The differential of the cells.

Generally WBCs <200/cmm and RBCs <2000/µL.

A glucose level may be done. Also, take the blood at the same time to estimate the serum glucose level (after the patient has fasted for 6 hours).

Glucose level falls in inflammation and lowest in septic arthritis.
In septic arthritis, this maybe 50% less than the blood glucose level.
Low glucose level is also seen in rheumatoid arthritis.

Complement level may also be advised.

The complement level is decreased in SLE, rheumatoid arthritis, and other immunologic arthritis.

Estimate on synovial fluid protein, uric acid, and lactate.

Increased uric acid level indicates gout.
Increased protein and lactate level indicates a bacterial infection.

Gram stain.
AFB stain may also be advised.
Culture and sensitivity. This is advised for bacteria and the fungus.
Polarized microscopy for the presence of crystals.

The calcium pyrophosphate dihydrate crystals are birefringent in pseudogout (blue on red background).
Cholesterol crystals are seen in rheumatoid arthritis.
---