Fluid Analysis:- Part 1 – Pleural, Pericardial, and ascites, Difference of Transudate and Exudate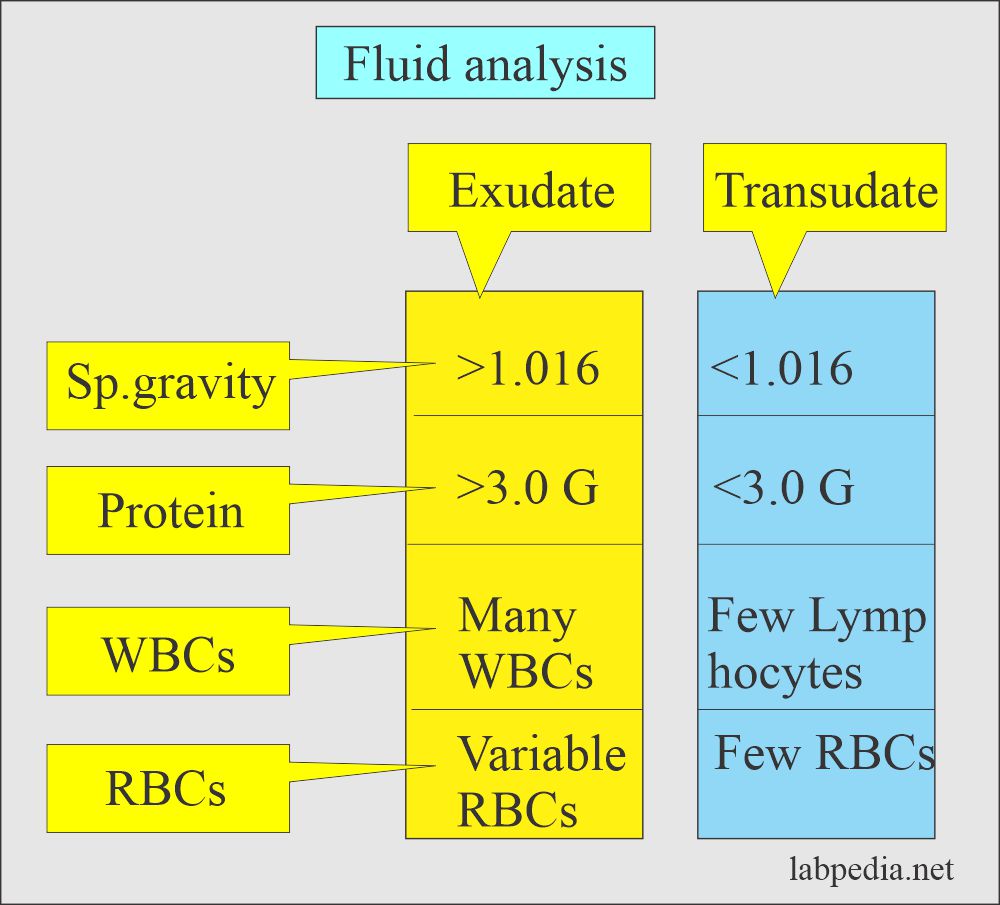 Fluid Analysis
Definition of Fluids in various cavities of the body:
The fluid is secreted by the serous membranes lining the peritoneum, pleural and pericardial cavities.
Literally, serous fluid means resembling serum.

This serous fluid is found in the pleural, peritoneal, and pericardial cavities, which will lubricate the opposing parietal and visceral membrane surfaces.
Inflammation or infection affecting the cavities causes fluid to accumulate.

Serous fluid is the ultrafiltrate of the plasma.
The fluid formation depends upon the following:

Hydrostatic pressure.
Capillaries permeability.
Colloid osmotic pressure.
Lymphatic drainage.
Types of body fluid found are:
The pericardial cavity around the heart contains the fluid, and the aspiration of the pericardial fluid is called pericardiocentesis.
Peritoneal or ascitic fluid is found in the abdomen. This is the effusion and accumulation of serous fluid in the abdominal cavity. Its aspiration is called paracentesis.
Pleural cavity fluid was found in the chest. And aspiration is called thoracentesis.
Gastric fluid is 1000 to 3000 mL/day.
Bile is 300 to 1000 mL/day.
Saliva is 500 to 1500 mL/day.
Pancreatic fluid is 1000 to 1500 mL/day.
Small intestinal fluid is 1000 to 2000 mL/day.
Urine output is 500 to 1500 mL/day.
Insensible loss through skin and lungs is 600 to 1000 mL/day.