Fluid Analysis – Part 1 – Normal findings, Pleural, Pericardial, and ascites, Difference of Transudate and Exudate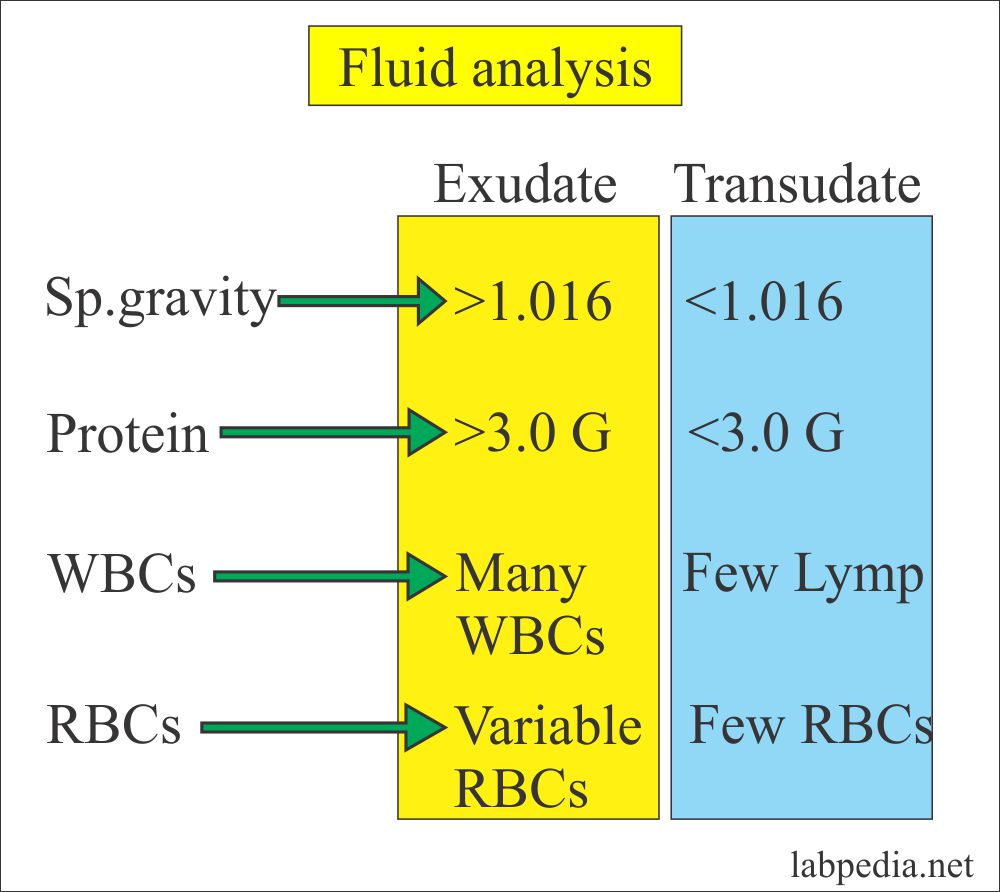 Definition of Fluids in various cavities of the body:
The fluid is secreted by the serous membranes which are lining the peritoneum, pleural and pericardial cavities.
Literally serous fluid means resembling the serum.

This serous fluid is found in the pleural, peritoneal and pericardial cavities, where this will lubricate the opposing parietal and visceral membranes surfaces.
Inflammation or infection affecting the cavities causes fluid to accumulate.

Serous fluid is the ultrafiltrate of the plasma.
The fluid formation depends upon:

Hydrostatic pressure.
Capillaries permeability.
Colloid osmotic pressure.
Lymphatic drainage.

Types of serous fluid found in :

Pericardial cavity found around the heart contains the fluid, and aspiration is called pericardiocentesis.
Peritoneal or ascitic fluid found in the abdomen. This is the effusion and accumulation of serous fluid in the abdominal cavity. Its aspiration is called paracentesis.
Pleural cavity fluid found in the chest. and aspiration is called thoracentesis.
Following is the normal findings of serous fluids:
Appearance
Usually, pale yellow and clear with low viscosity.

Turbidity indicates high leukocytes count.
The red or pink fluid is due to the presence of blood.

Specific gravity =  1.010 to 1.025
Total protein = 1000 to 2000 mg/dL
Albumin  =  50 to 70%.
Globulin  =  30 to 45%.
pH  =  6.8 to 7.6
LDH  =  Increased due to necrosis of the damaged tissue and dead leukocytes.
Ascitic fluid normal findings
Source 2
Gross appearance = Clear, serous, light yellow.
Presence of cells:

RBCs = non.
WBCs = <300 /µL

Proteins = <4.1 g/dL
Glucose = 70 to 100 mg/dL
Amylase = 138 to 404 units/L
Alkaline phosphatase:

Adult male = 90 to 240 units/L
Female <45 years = 76 to 196 units /L
Female >45 years = 87 to 250 units /L

LDH =  Like serum LDH level
Bacteria = negative
Fungus = negative
Cytology for malignant cells = negative
CEA = negative
Transudate
Mechanism: Fluid accumulates as ultrafiltrate.

The capillary pore can allow passing the protein of mol.weight of 200,000 to 300,000.
The larger molecular weight proteins are held back.
Transudate accumulates because of the increased hydrostatic pressure in the capillaries.
The fluid is low in protein as compared to plasma.
This has a normal protein or less than 3 g / dL.
Specific gravity is less than 1.016.
Neutrophils are absent.

LDH

is normal.
Glucose is normal.
Exudate
Mechanism:  Fluid accumulates because of the injury to the membranes due to infection or inflammation.

The damaged membranes allow passing through the larger molecules of proteins.
Types of exudates are:

Serous.
Fibrinous.
Serofibrinous.
Purulent.
Putrid.
Chylous.
Serosanguinopurulent.

This has increased protein or more than 3 g / dL.

The specific gravity is more than 1.016.
Neutrophils are increased.

LDH

is increased.
Glucose is decreased.

LDH

is increased.
Difference between transudate and exudate:
parameter                          
Transudate                       
Exudate            
Appearance
Pale yellow

Yellow (inflammatory) Red (hemorrhage)

Brown (bilirubin)  or cloudy

Protein
<3 g/dL
>3 g/dL
Fluid : serum protein ratio
<0.5
>0.5
Fluid : LD ratio
<0.6
>0.6
Specific gravity
<1.016
>1.016
WBC
Absent
Increased
LDH
Normal  <200 IU/L
Increased >200 IU/L
Glucose
Normal (equal to serum level)
Increased (<than or equal to serum)
Pleural fluid cholesterol
<60 mg/dL
>60 mg/dL
Pleural fluid: serum cholesterol  ratio
<0.3
>0.3
Pleural fluid: bilirubin ratio
<0.6
>0.6
Fibrinogen
No clot
Clots are seen
Spontaneous clotting
Negative
May see clot formation
Cell count
300 to 1000 /cmm
>1000 /cmm
Differential
Mononuclear cells predominate
<25% neutrophils
>25% neutrophils
---