Fibrinogen Degradation Products (FDPs), Fibrin split products (FSP), and d-Dimer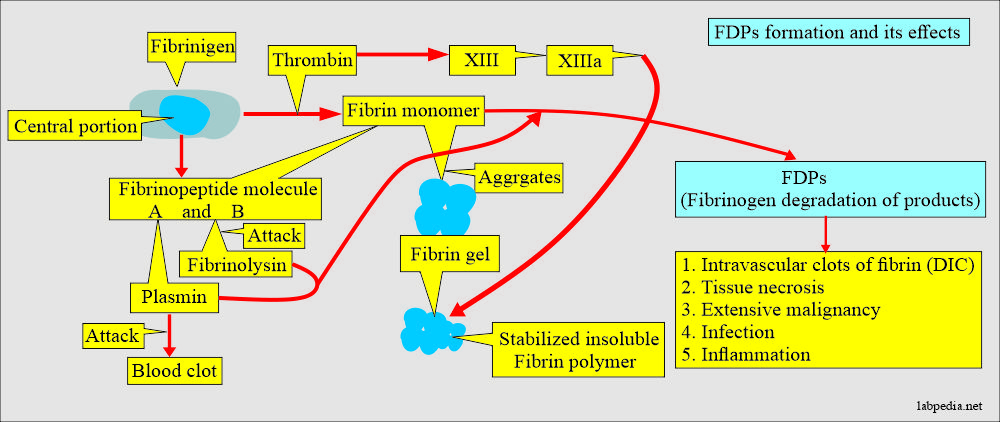 Fibrinogen degradation products (FDPs) and d-Dimer
Sample
It is done in the serum.
Collect 2 ml blood in a test tube containing Thrombin,  soybean, and Trypsin inhibitor.
Allow to clot at 37 °C for 30 min.
OR Collect blood with 1:20 dilution (

ESR

solution 0.2 ml and 1.8 ml blood).
For d-Dimer, citrated plasma is stable for 8 hours at room temperature.
Purpose of the test (Indications)
This test establishes a DIC diagnosis (Disseminated intravascular coagulopathy).
Thromboembolic disorders like pulmonary embolism.
This is a screening test for

DVT (Deep vein thrombosis).

It can be used to determine the duration of anticoagulation treatment of

DVT

.
Precautions
Keep in mind that menstruation may be associated with increased FDP value.
Keep in mind that drugs like barbiturates, streptokinase, urokinase, and heparin may increase the value.
Some drugs like warfarin and other oral anticoagulants decrease the value.
Avoid the excessive agitation of the blood.
Avoid prolonged use of a tourniquet.
Some of the drugs may affect and increase the level of FDPs like:

When heparin was given to treat the blood clots.
When streptokinase is given in patients with coronary thrombosis.
Barbiturates may increase the FDP level.
Treatment by the urokinase to dissolve the clot.Drugs affecting the FDP level:
Pathophysiology of Fibrinogen/Fibrin degradation products (FDPs and d-dimer):
Normal homeostasis is a balanced interaction of the vascular endothelium,  platelets, and biochemical systems.
Measurement of FDPs provides a direct indication of the activity of the fibrinolytic system.
The Fibrinolytic system has an important role in balancing clot formation and clot dissolution.
FDPs generate when inappropriate clotting is seen in disseminated intravascular coagulopathy (DIC).
The trigger for this excessive intravascular coagulopathy may be:

Severe trauma.
Amniotic fluid embolism.
Premature separation of the placenta.
Mucinous Adenocarcinoma.
 Liver diseases.
Acute myelocytic leukemia.
Falciparum malaria.
Snake Bites.

All the above factors lead to the release of procoagulants and give rise to platelets aggregation.

 Gram-negative and meningococcal septicemia, septic abortion, and viral diseases lead to endothelial injury and cause intravascular clot formation.
Fibrinogen degradation products (FDP) and d-Dimer facts:
These are polypeptide fragments generated by the enzymes (plasmin) when the body tries to dissolve blood clots.
These fibrinogen degradation products are named X, Y, D, and E and collectively called fibrinogen degradation products (FDP) and d-dimer.
d-dimer is more specific for the measurement of fibrinogen degradation. While normal plasma is negative for d-dimer.
These FDPs have anticoagulant action and inhibit clotting.
FDP is the substance that remains in the blood after the blood clot is dissolved.

The

FDP

has an anticoagulant action and inhibits clotting when in excess.

FDP

and d-Dimer correlate with each other and are evidence for DIC or another intravascular thrombosis.

FDP

and d-Dimer assess both thrombin and plasmin activity.
The d-Dimer assay provides a highly specific measurement of fibrin degradation that occurs.
Symptoms of Disseminated intravascular coagulopathy (DIC):
There may be Nausea and vomiting.
The patient may have bleeding from the gums.
There is severe muscular pain.
There may be abdominal pain.
The patient will have reduced urinary output (oliguria) and hematuria.
There is dyspnea.
Ultimately shock and confusion.
Normal FDPs and d-Dimer
Source 1
FDP = <10  µg/mL
To convert to SI unit x 1.0 = <10 mg/L
Source 4
FDP = Negative at 1:4 Dil.

Quantitative value is <10 µg /ml or <10 mg/L.

d-Dimer is more specific than

FDP

.

Negative = No d-Dimer fragments are found in plasma.
<0.25 mg/L (or <0.4 µg/mL).
Source 2
Negative, no d-dimer fragments are found.
When both test d-Dimer and

FDPs

are done are more specific for the diagnosis of 

DIC

.
Increased

FDP

or d-Dimer level is seen in:
Pregnancy ( abruptio placentae, Eclampsia, retained dead fetus, and sepsis ).
Myocardial infarction.
Heart or vascular surgery.
Thrombosis.
Pulmonary embolism.
Thrombolytic or defibrination therapy.
Primary and secondary fibrinolysis.
In the case of

DIC

.
Venous thrombosis (Deep vein thrombosis, 

DVT

).
Carcinomas.
Liver disease.
Surgery.
Allograft rejection.
Hematoma.
Sickle cell anemia.
Massive trauma.
Decreased FDP value seen in:
Critical Value of FDP is above  >40  µg/mL or 40 mg/L
---