Erythrocyte Sedimentation Rate:- Part 2 – ESR Solution and Procedure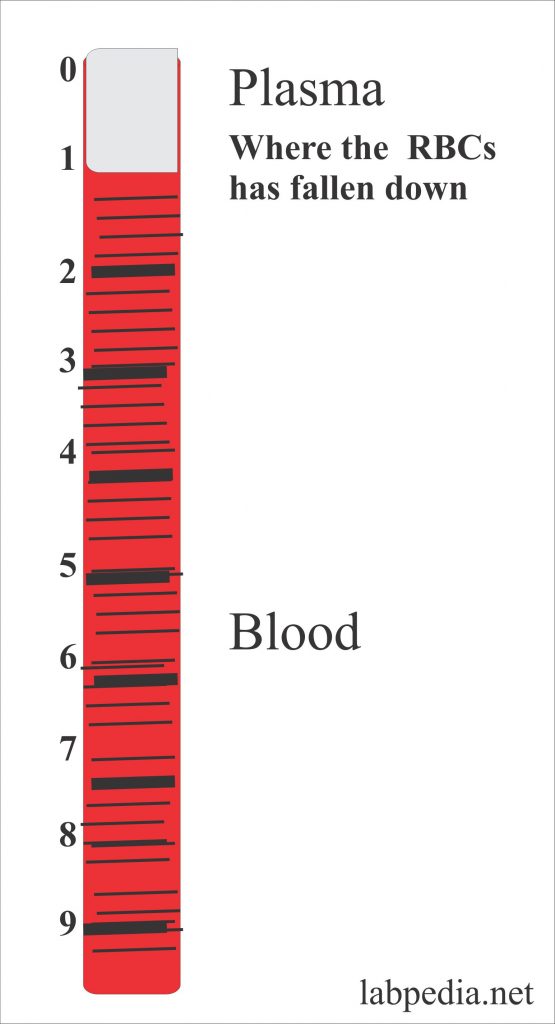 Sample 
Blood in EDTA or oxalate can be used.
Principle of ESR
ESR test is based on the principle of sedimentation.
When the blood in an anticoagulant is left, undisturbed RBCs will settle down in the container, or the Wintrobe tube marked 0 to 100 mm.
Definition
This is the speed of sedimentation of red blood cells in plasma over a period of one hour.
Indications
This is a nonspecific test but, when raised, has great significance.
The best test to diagnose occult disease.
Diagnose and monitor temporal arteritis.
Diagnose and monitor the Polymyalgia rheumatica.
Monitoring Hodgkin's disease.
Advanced Malignancies.
In myocardial infarction, where it is raised while in angina is normal.
Factors influencing ESR
Plasma protein

In normal blood, RBCs suspended in the plasma form few aggregates of RBCs. So the rate of sedimentation is slow.
If there is a rouleaux formation, that will give a false value. So acute phase protein affects the ESR.

Number of RBCs

ESR depends upon the number of RBCs, like in anemia decreased, the number of RBCs settles down rapidly.
In the case of polycythemia, RBCs settle slowly, and ESR is low.

Shape of RBCs

Changes in the shape affect the ESR like in Sickle cell anemia, ESR may be low or zero.

Size of the RBCs

Macrocytes cells settle more rapidly than the microcytes because of their large size.
Technical factors affecting ESR, giving false increased value:
False increased ESR sees in:

Test when reading after one hour.
When there is improper dilution with the anticoagulant.
When the tube is not vertical and is tilted to one side.
If there is a vibration of the tube during the test.
If blood is not mixed properly or there are micro-clots.
The test is done at room temperature >25 °C.
Technical factors  affecting ESR and giving false lower value:
When the test is read for less or more than one hour.
Improper mixing of the blood.
Improper dilution of the blood.
If the blood temperature is low.
If there are air bubbles in the tube.
If the room temperature is <20 °C.
Procedure
Items required:
Analytical balance.
 Trisodium citrate (analytical grade).
 Distal water.
Method to prepare ESR solution:
Weigh 3.8-gram Trisodium citrate /100 mL of water.
Suppose you are preparing 500 mL of

ESR

solution.

Take 19 grams of Trisodium citrate.
Dissolve in 500 mL of distal water.
Mix thoroughly.
How to do ESR (Procedure):
ESR should be done within 2 hours of the collection of the blood.

Blood can be kept at 4 °C for 6 hours. Now bring the blood to room temperature.

Take 0.2 mL of

ESR

solution + 1.8 mL of oxalate blood or blood in

EDTA

.
Fill the Wintrobe

ESR

tube. (mix the blood thoroughly before filling the tube).
Mount in the

ESR

stand.
Start the clock for one hour.
Record the result after one hour.
That is the ratio of settled cells and above clear plasma.
The temperature should be kept between 20 to 25 °C.
Automated Mini-Ves ESR:
Automated Mini-Ves ESR measure in 20 minutes instead of one hour.
This 20 minutes ESR reading correlates to the 1-hour Westergren method.

1mL of sample is drawn up into a solution of 0.109 mol/L sodium citrate.
It is placed in the Mini-VES machine.
This instrument record the reading via its optical assembly.
The second reading is recorded after 20 minutes to give the ESR value.
Normal
Source 1
| | | |
| --- | --- | --- |
| Age | mm/h | mm/h |
| Child | 0 to 10 | |
| Adult | Male | Female |
| <50 years | 0 to 15 | 0 to 20 |
| >50 years | 0 to 20 | 0 to 30 |

Source 4
mm / hour. (Wintrobe method)
Male

< 50 years of age = 0 to 9 mm/hour.
>50 years of age   = 0 to 20 mm/hour.

Female

<50 years of age = 0 to 20 mm/hour.

Children              =  0 to 13 mm/hour.
Increased ESR Value:
Anemia.
Macrocytosis.
Pregnancy.
Increased plasma globulins.
Increased plasma fibrinogen.
Multiple myelomas.
Acute and chronic inflammatory conditions.
Autoimmune inflammatory diseases.
Chronic renal failure.
Cancers (malignant tumors).
Decreased ESR value:
In the case of Sickle cell anemia.
Microcytosis.
Spherocytosis.
Polycythemia.
Increased plasma viscosity.
NOTE: Please see more details on

ESR

in

CBC

.
---