Enteric fever – Part 4 – Typhidot Test for Diagnosis of Enteric fever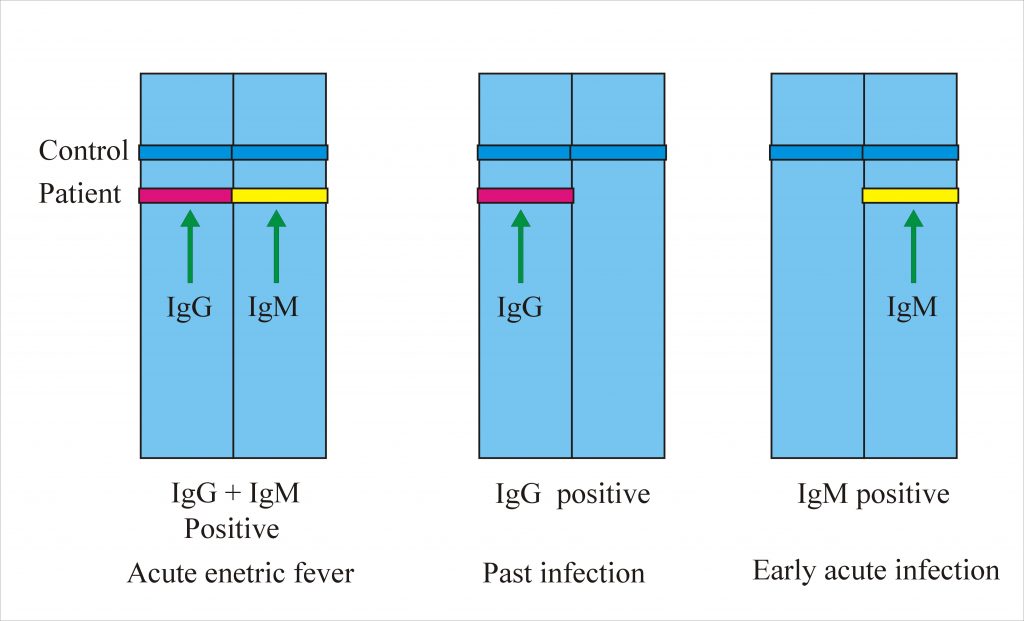 Sample
Venous blood is taken to get the serum.
Indication
The main indication is to diagnose Typhoid fever.
Test principle
This test detects antibody IgG and IgM in the serum of the patient.
The commercial kit manufacturer claims that Typhidot can detect antibodies in the first few days of fever when Widal is negative.
The Typhidot is easy to perform and requires no special equipment.
Typhidot will be a useful complementary test to blood culture and the Widal test in typhoid fever diagnosis.
Widal test is positive after at least 7 to 10 days of Typhoid fever.
Result accuracy
The Typhidot test gave a sensitivity of 100 percent and specificity of 80 percent when bacteremic patients were analyzed.
Another study shows the test's sensitivity and specificity using blood culture as gold standard were 92.3 % and 98.8 %, respectively, for typhoid fever.
One study was done in Pakistan.
Interpretation of Result
IgM line positive = Acute typhoid fever.
IgM +IgG positive = Acute typhoid fever.
IgM negative and IgG positive = Past infection
NOTE: My personal experience is that widal is still a better option and more reliable than Typhidot because false-positive results are very common.
---