Enteric fever – part 3 – Paratyphoid fever, Salmonella paratyphi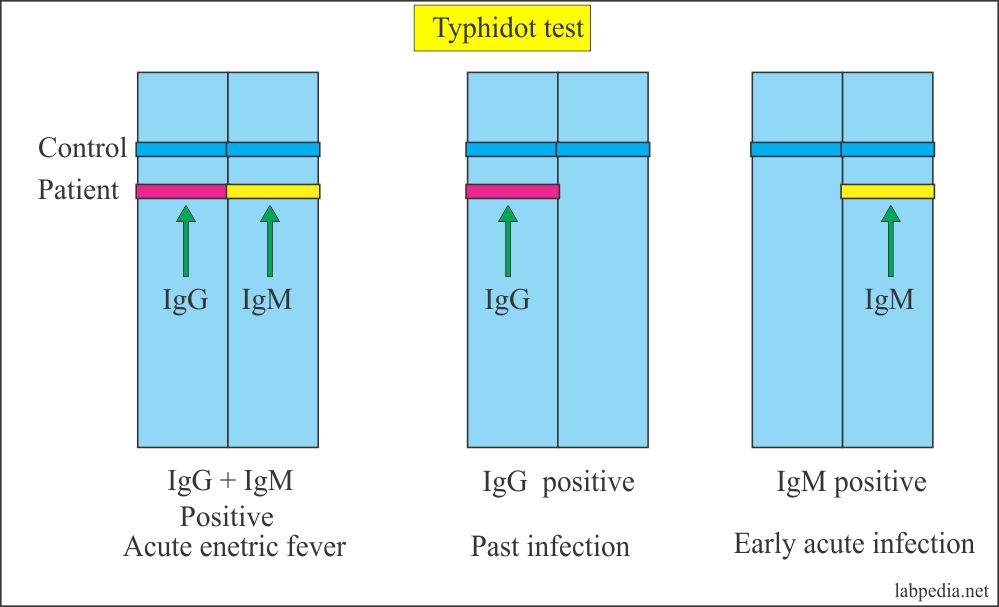 Definition
Salmonellae are flagellate, gram-negative bacteria that causes a self-limited disease that is food-borne and water-borne gastroenteritis or may cause life-threatening systemic disease caused by S. Typhi (Enteric fever or Typhoid fever).

Salmonella paratyphi causes less severe disease than Salmonella typhi.

Salmonella infections are divided into:

Typhoidal infection caused by S.typhi and S.paratyphi.
Salmonella paratyphi is also a type of Enteric fever.
Non-typhoidal infection most common in the USA caused by:

S.typhimurium.
S. enteritidis.
95% of cases are food-born, and the rest are nosocomial infections.

Salmonella is relatively uncommon in the USA; 70% are acquired from abroad.
Humans are the only source of this infection, and the spread is from person to person or via contaminated foods or water.
Paratyphoid fever is caused by:
S. paratyphi A.
S. paratyphi, B.
S. paratyphi, C.
Sample
Samples are taken like typhoid fever.

Blood complete examination.
Stool for culture.
Blood for culture.
Urine for culture.

For the culture, roughly 105 to 109 organisms are required, but this count may be low in infants and older adults.
This count may be low in patients taking antacids and H2 receptor blockers.
Pathogenesis of Salmonella paratyphi infection:
The incubation period is 6 to 30 days.
This is caused by Salmonella enterica, which has serotypes of Paratyphi A, B, and C.
The spread is eating or drinking contaminated water or food by the patient's feces or the carrier.

Humans are the only animals infected.
Occasionally this may spread sexually.
Most cases are due to Paratyphi A in comparison to Paratyphi B and C.
Paratyphi B is more common in Europe.

This will have S/S like typhoid fever.
Diagnosis by isolation of the bacteria or antibodies (anti BH) in the widal test.

Paratyphi C is a rare infection and is mostly seen in the Far East.

It presents as septicemia with the formation of an abscess.
Culture usually makes the diagnosis.

These bacterias are internalized by the intestinal epithelial cells present over Peyer's patches and are abundant in the ileum.
These are transported to the peyer patches; from there, these bacteria enter the blood circulation.
S.typhi often settles in the liver and biliary tree.
Signs and symptoms
These are like typhoid fever.
S/S are milder than typhoid fever.

There are weaknesses and loss of appetite.
Headache is quite common.
Some patients may develop skin rashes that are rose-colored.
Only 20% to 40% of the patient develops abdominal pain.

The duration is shorter.
There may be transient diarrhea and symptomless infection.
Without treatment, S/S may persist for weeks or months.
Carrier state is less common.
Lab Diagnosis
CBC

 shows:

Low TLC, leucopenia.

Blood culture: 

This is the gold standard for the diagnosis.

Positive in the first week of infection in 80% of the cases. But blood culture may reach 90% of the cases, decreasing to 50% in the third week.
Blood culture is positive in 80% of the cases in the first week of infection.
Blood culture is considered 100% specific.
Buffy coat may decrease the time for isolation.
This is subcultured on the MacConkey media.

Bone marrow culture, if taken, will be positive and may have a high yield of up to 90% sensitivity.

Stool culture

 will be a positive but not reliable test. This will be positive within the first 7 days of infection.

This is negative in 60% to 70% of the cases during the first week if the patient is untreated, then positive in these patients in the third week.
The chronic carrier may have stool culture positive even up to one year.
Feces cultures on solid selective media:

Desoxycholate citrate agar where there are non-lactose fermenting colonies.
McConkey medium shows non-fermenting colonies.
There is no gas and no fermentation of the sugar.

Widal test

 will be positive after 7 to 10 days of infection.

An agglutination test is done for flagellar H and somatic O antigen with antisera (Salmonella paratyphi A and B).

Typhidot test claimed by the manufacturing companies that it would be positive after 2 to 3 days.

The urine culture

 may be done and is positive in the case of enteric fever but is less sensitive.

This is done on the MacConkey media.

Bacteriophage typing 

is done to identify the different strains of S.typhi and also Paratyphi.

This is useful for the epidemiological investigation in case of the source of the outbreak.

Identification of S. paratyphi:

Biochemical tests like there are no gas formation on the fermentation of the sugar.
Blood culture and a urine culture can also identify these organisms.
Serology shows H and O antisera positive tests.
Bacteriophage typing identifies the different types of salmonella paratyphi.
Treatment:
Ciprofloxacin and Co-trimoxazole can be given.
The drug of choice is chloramphenicol but not used because of its complication.
Treatment of carrier:

The chronic carrier is less common but can be treated by ampicillin, chloramphenicol, ciprofloxacin.
Ultimately can advise cholecystectomy.

Control: The following methods can do this.

Public health, including general hygiene, should be discussed with the public.
The carrier should not be employed in the food industry. They should be taught public hygiene like washing hands, and clean water supply,
Vaccination will also help to decrease the incidence of the disease.
---