Diarrhea – Part 1 – Diarrhea Lab findings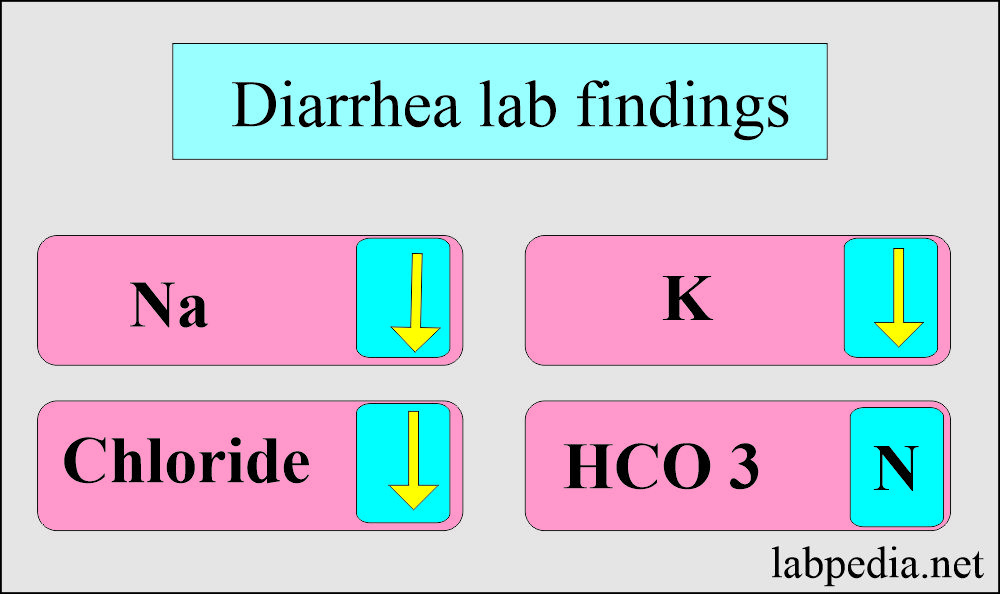 Diarrhea Lab findings
Definition of diarrhea
This is characterized by 3 loose stools per day and may be accompanied by:

Abdominal pain.
Nausea and vomiting.
Fatigue.
Causes of Diarrhoea: 
Diarrhea may be acute or chronic.
This may be due to:

Viral infections. The most common cause is retrovirus among children. Other viruses are Adenovirus, cytomegalovirus, and HIV.
Bacterial infections are due to salmonellosis, Vibrio, Campylobacter, and Yersinia. Other causes are toxigenic bacteria like Staphylococcus and Bacillus cereus, Shigella, and E.Coli.
Parasitic infestation, e.g., Giardia Lamblia and Entamoeba histolytica.
Pathophysiology
Most of the diarrhea is due to infections.
Age: Mostly, the young are susceptible due to poor health.

Poor general health and nutrition will predispose to diarrhea.

Bacteria leading to diarrhea depends:

A dose of the bacterial infection.
Production of enterotoxin.
Its ability to attach to the intestinal mucosa and to invade the mucosa.

Other factors for diarrhea are:

Poor sanitation.
Contaminated food and water.
Personel hygiene, washing hands with soap after defecation, prevents the fecal-oral spread.
Food stored at room temperature allows rapid bacterial growth and the production of toxins.
Food stored at 4 °C cannot kill the bacteria; it can only prevent the multiplication of bacteria.

Avoid keeping the food at room temperature, which leads to the rapid proliferation of the organism.

AIDS has a prominent feature of diarrhea.
Diarrhea causes and diagnosis:
| | | | |
| --- | --- | --- | --- |
| Causative agent | Source | A common source of infection | Diagnosis |
| Salmonella species | Animal and humans | Milk, eggs, meat, and poultry | The specimen is feces, culture on selective media. |
| Shigella species | Humans | Food, fomites, and feco-oral route | Stool and rectal swab on MacConkey and selective media |
| Escherichia coli | Humans | Food, water, fomites, and feco-oral route | Feces culture on MacConkey medium |
| Bacillus species | Soil | Rice | Suspected food, vomitus, and stool culture on ordinary media |
| Staphylococcus aureus | Septic lesion on food handlers | Dairy products and cooked meat | Suspected food, vomitus, or feces are cultures on ordinary media |
| Campylobacter species | Animals | Meat, milk, and poultry | Feces culture on selective medium |
| Clostridium perfringens | Animal | Meat pies and stews | Feces and suspected food on aminoglycoside blood agar anaerobically |
| Clostridium difficle | Humans | Feco-oral and overgrowth of strains in colon | Direct detection of toxin and isolation on selective media |
| Vibrio cholerae | Humans | Food and water | Feces on selective medium (TCBS agar). |
| Yersinia species | Animal | Food and water | Isolation from feces or blood or rising antibody titer |
Lab. workup of the patient with diarrhea:
History of the patient as regards the duration of the clinical symptoms.

Any history of travel to a foreign country.
Food history of the other people living with the patient.

Take a stool sample or rectal swab.

Take the sample of suspected food.
Get the vomitus sample.

Stool examination for ova and parasites.
Stool cultures for pathogenic organisms.
Bood culture in severe cases. It is advised in very young and old patients.
Take the sample of the suspected food if possible.
Antigen tests for G.lamblia and E.Coli.
Antibodies tests can diagnose parasitic diseases.
A rapid antigen test can diagnose the retrovirus.
Causes of noninfectious disease are diagnosed by:

Fecal fat.
Lactose intolerance test.
Celiac disease is diagnosed by anti-endomysial and antigliadin antibodies.
Tests other than lab are colonoscopy, endoscopy, and sigmoidoscopy.

In case of outbreak, advise:

Fecal samples from the kitchen personnel.
Food handling practices by the workers in the kitchen.
Electrolytes findings  are as follows:
| | |
| --- | --- |
| Lab Test | Value  |
| Serum Sodium     |  Decreased |
| Serum Potassium | Decreased |
| Serum Bicarbonate | Normal |
| Serum Chloride | Decreased |
| Urine volume | Decreased |
---