Diabetes Mellitus:- Part 5 – Glucose in Urine (Glycosuria), Benedict's solution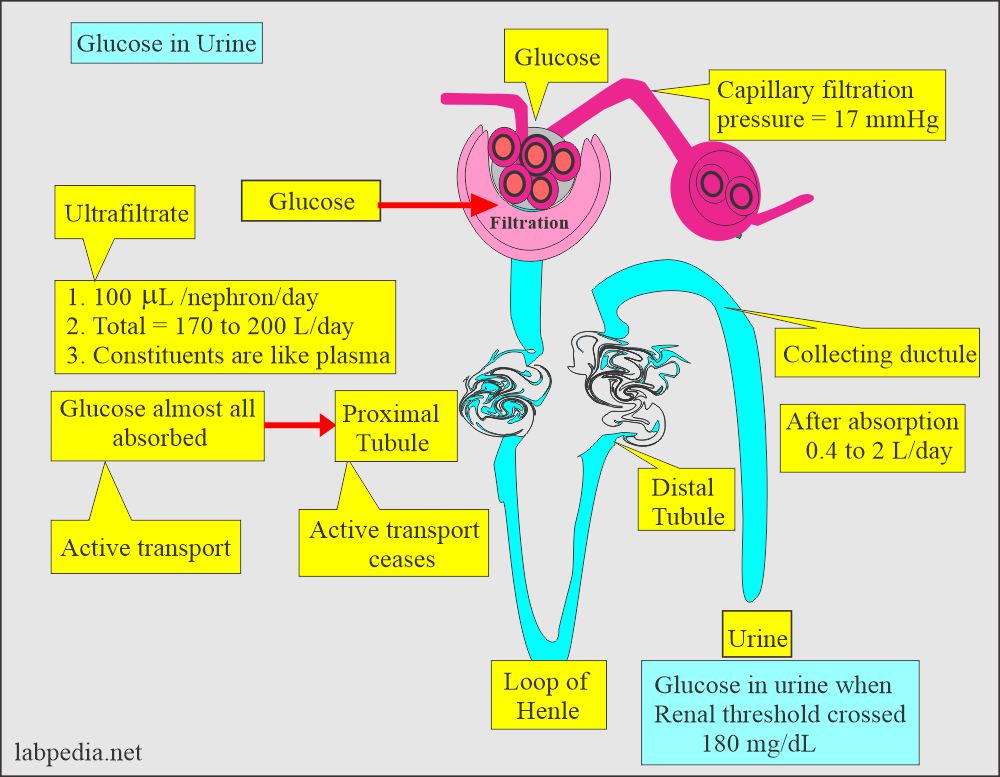 Glucose in Urine (Glycosuria)
Sample of Glucose in Urine
The test sample is urine.
The best sample after 2 to 3 hours of the meal.
Indications for Glucose in Urine
To diagnose diabetes mellitus.
To monitor diabetes mellitus.
To evaluate the effectiveness of the therapy.
To diagnose gestational diabetes.
It is part of a routine urine examination.
Precautions for Glucose in Urine
Can see false-positive tests when any substance present in the urine can reduce the copper in the clinitest strips.
Can see the false positive tests in the presence of other sugars like galactose, fructose, and lactose.
Drugs giving false positive tests are acetylsalicylic acid, Ascorbic acid, cephalothin, chloral hydrate, streptomycin, sulphonamides, and aminosalicylic acid.

Contamination from the oxidizing agents or bleach.
Improper storage of the urine strips.

Drugs giving false-negative results are levodopa, phenazopyridine, and ascorbic acid with clinitest strips.

Multistix detects ≥50 mg/dL; if the amount is less, it will be negative.
Sodium fluoride causes enzyme inhibition.
Refrigerated specimens give decreased enzyme activity.

Some drugs increase glucose in the urine, like diuretics (thiazide), estrogens, isoniazid, lithium, nalidixic acid, nicotinic acid, chloramphenicol, chloral hydrate, cephalosporin, and aminosalicylic acid.
Glycosuria definition
Glycosuria is the presence of reducing substances (glucose, galactose, lactose, and fructose) in the urine.
Glucosuria is the presence of glucose in the urine. This is specific to the diagnosis of diabetes mellitus. Glucosuria may be with hyperglycemia and, in some cases, maybe without hyperglycemia.
Pathophysiology of Glucose in Urine:
Examination of urine for glucose is rapid, noninvasive, and inexpensive for screening urine.

A large number of urine samples can be tested.

Glucose is filtered by the glomeruli and reabsorbed by proximal convoluted tubules.
When glucose exceeds the renal threshold level(>180 mg/dL) of tubules, glucose appears in the urine, called glycosuria. https://labpedia.net/gestational-diabetes-mellitus-oral-gtt/.
Tubular absorption is an active process to maintain the body's glucose level.

Renal threshold for glucose = 160 to 180 mg/dL.

After the renal threshold values, glucose appears in the urine.
This is not sensitive nor specific for the control of diabetes because we don't know about the glucose level below 180 mg/dL.