Coombs' Test – Part 3 – Hemolytic Anemia of Newborn, Rh-antibody, Anti-D Antibody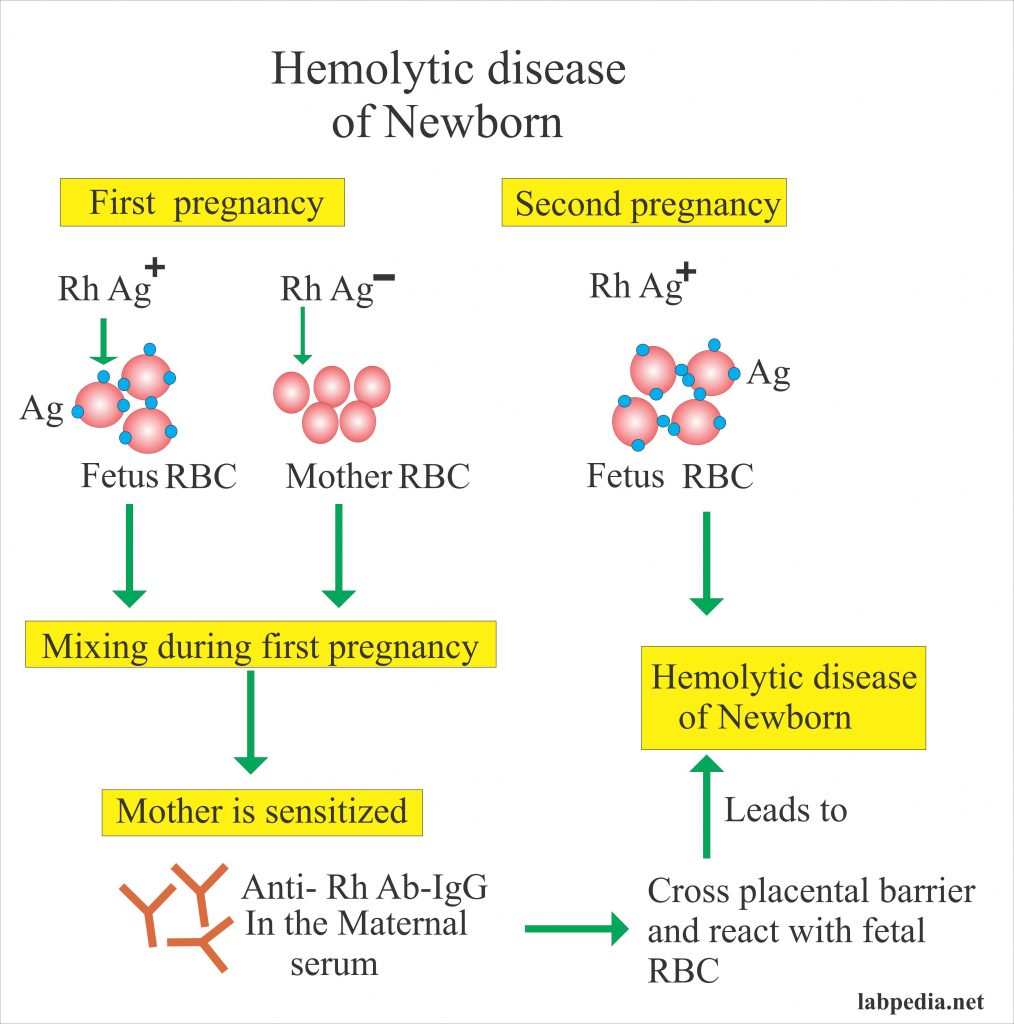 Sample
The sample is serum from the mother.
Whole blood (

RBC

) from the fetus or newborn.
Indications
To diagnosis hemolytic anemia of newborn (

HDN

).
To find out the presence of an Anti-D antibody in the serum of the mother.
Pathophysiology
The red blood cells have various antigens on their surface which form various blood groups like Blood group

ABO

system and blood group Rh-systems (D-antigen).
In the Rh-system, the Rh antigen is present on some of the

RBC

and those are called Rh-positive blood group while the

RBC

lacking Rh – antigens are called Rh-negative blood groups.
There are a group of Rh antigens like Rh-C, Rh-D, Rh-E, and more.

If the mother is Rh antigen (D-negative) and the baby is Rh antigen(D-positive), then because of the feto-maternal hemorrhage, the mother may be sensitized to Rh-antigen and develop Rh-antibody which are mostly IgG type antibody (anti-D antibodies).
These maternal anti-D antibodies can cross the placental barrier, enters the fetal circulation, and leads to hemolytic disease of the newborn (

HDN

).
Significance
Coombs' test is used to detect antibodies in the Rh-negative mothers or in the newborn.

Mother has free antibodies in the serum.
Fetal/ newborn has coated RBCs by the antibodies.

One can monitor the presence of the antibody during pregnancy.
Indirect Coombs' test is done to find a free anti-D antibody in the serum and is done on the maternal blood.
A direct Coombs' test is done to find

RBC

coated antibody in the fetus or newborn.

Mother titer of more than 1:16 at 8th month indicates the presence of Anti – D antibodies in the mother. These can cross the placental barrier and enter fetal circulation.
The fetus can develop hemolytic disease.
---