Coombs' Test – Part 2 – Indirect, Anti-globulin indirect test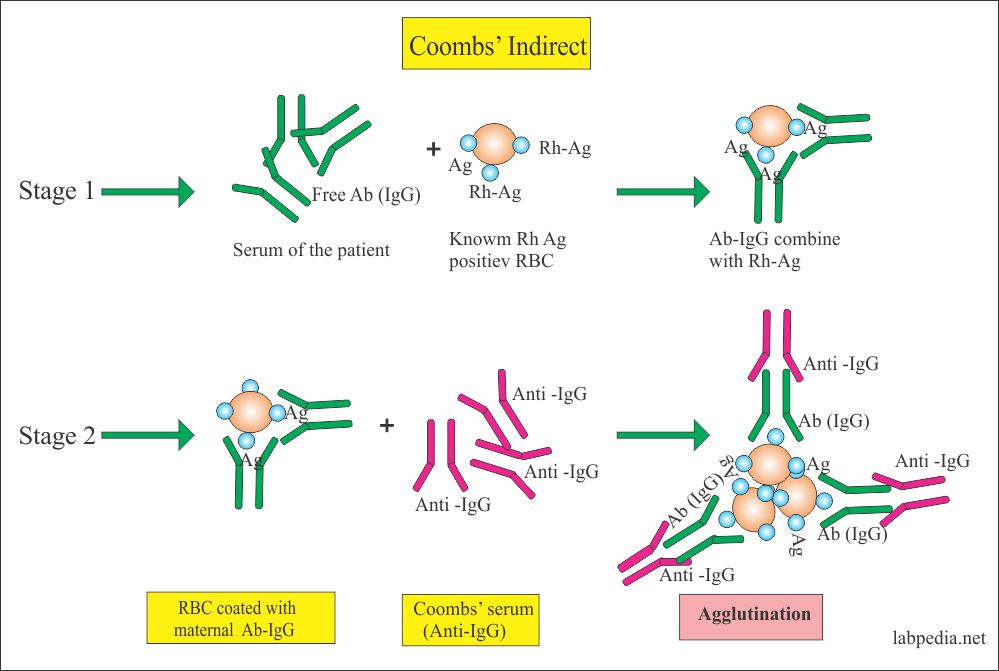 Sample
This is done on mother serum.
Indication
To diagnose the presence of antibodies in the pregnant mother serum.
To diagnose autoimmune hemolytic anemia.
To find the red cell sensitization by drugs.
Precaution
This should be done on fresh serum.
Some of the drugs give false-positive results are cephalosporin, antiarrhythmic, insulin, methyldopa, Dilantin, sulphonamides, and tetracycline.
Pathophysiology
The indirect Coombs' test detects the circulating antibodies in the serum, these are the free antibodies.
The major purpose of this test is to detect if the recipient or the patient has serum antibodies other than the

ABO

/ Rh system to

RBC

before receiving the blood transfusion.
This is the test for screening purposes in routine blood transfusion.
This test can diagnose other agglutinins like cold agglutinins which are usually associated with Mycoplasmal infection.
Circulating antibodies against

RBC

may be seen in the Rh-negative mother who is carrying an Rh-positive fetus.

There is a mixing of the feto-maternal blood during the first delivery.
Fetal blood Rh-Positive when goes into mother circulation will sensitize the mother and there is the formation of IgG type of antibodies.
These antibodies can cross the placental barrier and enters the fetal circulation.
In the second pregnancy, there is a Type II cytotoxic reaction which will destroy the fetal RBCs and give rise to hemolytic anemia.
Coombs' serum is prepared by injecting IgG immunoglobulin (antibody) to the rabbit, then from his serum anti-IgG antibody is separated, which is called Coombs serum.
Procedure
This test is done in the serum.
Add recipient serum (patients)  to donor

RBC

  (known blood O) in a test tube.
Incubate and then wash the

RBC

three times with saline.
Now add Coombs' serum and again centrifuge, then see for agglutination.
If the test is positive then you will see clumping or agglutination.
Normal
Negative and there is no agglutination.
A positive test indicates:
Incompatible blood transfusion.
Mother has anti-Rh antibodies.

Erythroblastosis fetalis.

Acquired hemolytic anemia.
due to drugs and cold antibody.
---