Coagulation:- part 6 – Activated Partial Thromboplastin Time (APTT), Partial thromboplastin time (PTT), Prothrombin time (PT) and INR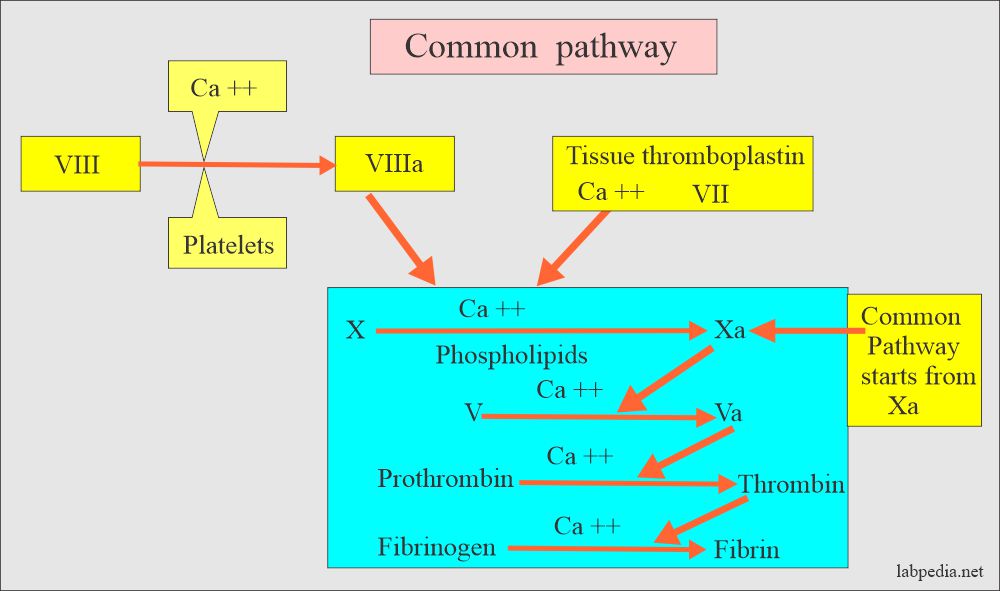 Sample
The blood is collected in an anticoagulant with a fixed ratio carefully.

Take 0.2 ml anticoagulant (

ESR

solution may be used) and 1.8 ml whole blood.

The

APTT

sample may be taken 30 to 60 min before the next dose of Heparin.
Precaution
Plasma is stable for one hour at 4 °C and 28 days if frozen.
Sample handling is very critical. If the ratio of blood and anticoagulant is not correct, then the results are false and raised.
Principle
The

PTT

is a one-stage test.

PTT

evaluates Factor I (Fibrinogen), Factor II (prothrombin), Factor V, VIII, XI, X, XI, and XII (5, 8, 9, 10, 12) http://Blood Coagulation Factors.
The partial thromboplastin time (

PTT

) and Activated Partial thromboplastin time(

APTT

) are for the same function but

APTT

is a more sensitive version of

PTT

.
Purpose of the test (Indications)
This is used for the diagnosis of bleeding disorders.

APTT

may be used in the patient to check treatment who are taking Heparin or other blood-thinning medicines.
APTT measures the intrinsic system and common pathways.
APTT detects the functioning of factors XII, XI, X, IX, VII, V, II, and I (12, 11, 10, 9, 7, 2, 1).
For the diagnosis of Hemophilia and Christmas disease.
Pathophysiology
To understand the basis of the PTT and APTT, we have to have the concept of the process of coagulation.

In 1905 – 1906 P. Morowitz published the theory of blood coagulation. This was unchanged for 40 years. He divided coagulation into two phases.
Modern theory divided this process into three stages.
The coagulation cascade is as follows:
The intrinsic pathway consists of:
Vessel injury.
Collagen contacts.
Factors X11, X1, 1X, V111, and Calcium.
The extrinsic pathway consists of:
Vessel injury.
Tissue factor.
Calcium.
Factor VII.
The common pathway consists of:
Factor X.
Prothrombin converted to Thrombin.
Calcium.
Factor XIII.
Fibrinogen converted to fibrin.
Fibrin forms the stable clot.
Bleeding disorders have different presentations because of the etiology like:
Platelets disorders give rise to:

Petechiae.
There is bleeding from the mucous membranes,

Coagulation factors deficiency  leads to:

Deep hematomas.
There is bleeding into the joints.
There is hematuria.

Bleeding disorders may be due to:

Defects in the vascular system.
Platelets disorders.
Coagulation factors deficiency.
Specific inhibitors.
Fibrinolytic disorders.
Partial thromboplastin time (PTT):
PTT was useful in detecting intrinsic factors abnormalities, but it was relatively insensitive to the effect of heparin.

But APTT was sensitive to the heparin effect.
The APTT was very sensitive to coagulation factors deficiency within the intrinsic pathway before the prothrombin is converted to thrombin.

Detect the Intrinsic thromboplastin system.

Detects Common Pathway.

The factor I (fibrinogen), Factor II (prothrombin), V, VIII, IX, X, XI, and XII.

It is one stage clotting test.

Detects in the extrinsic coagulation.
Activated partial thromboplastin time (APTT):
APTT is very sensitive to coagulation factors deficiencies within the intrinsic pathway before the prothrombin to thrombin stage.

Intrinsic pathway.

Monitor heparin therapy.
Prothrombin time (PT) is advised for:
To monitor anticoagulant therapy with coumadin.
It is advised for coagulation disorder.
It may be part of liver functions.
PT reagents contain:   
The plasma of the patient.

Complete tissue thromboplastin ( this will activate the extrinsic coagulation system). 

Phospholipids act as a platelet substitute.

CaCl2.

PT test significance is:

The PT test measures factors of extrinsic and common pathways (VII, X, V, II, and I).

Factor VII is listed as the extrinsic system.

Common pathways have the factors X, V, II, and I.

PT  test is ideal to detect early vitamin K deficiency.

PT also monitors oral anticoagulant therapy.

In case of severe fibrinogen deficiency, it produces an abnormal PT test.
APTT reagent contains: 
 phospholipids substitute, activator.

CaCl2 initiates fibrin clot.

APTT test significance is:

PTT

is used to detect coagulation disorder and specifically detect the deficiency of the intrinsic thromboplastin system and also find the defect in the extrinsic pathway.

APTT

detects the intrinsic pathway and common pathway deficiency (XII, XI, IX, VIII, X, II, and I).
PT and APTT both abnormalities will tell us common pathways (X, V, II, and I)

In Hemophilia PTT is prolonged.
Coagulation factors are synthesized in the liver so liver diseases are decreased.

PTT is prolonged in the abnormality of the deficiency of factors I, II,

VII

,

XII

, X, XI,  and 

XII.
Normal
Source 1
Varies with the lab to lab.
Normal control is always run with the patient sample.
In general, is <35 seconds.

PTT: 60 to 70 seconds.
APTT: 30 to 40 seconds.

If APTT

is less than 50 seconds then the therapeutic goal is not achieved and the dose of Heparin may be increased.

When

APTT

is greater than 100 seconds is risky for the patient and there are chances for spontaneous bleeding.
Panic value Usually it is considered above 70 seconds.

Heparin effect is immediate and short-lived as compared to warfarin.
Source 2
APTT = 30 to 40 seconds
PTT = 60 to 70 seconds
Possible critical values

APTT = >70 seconds
PTT = > 100 seconds
Abnormal High results are due to:
All congenital deficiencies of Intrinsic system coagulation factors.
Cirrhosis.
Disseminated intravascular coagulopathy (

DIC

).
Factor

XII

deficiency.
Hemophilia A and B.
Hypofibrinogenemia.
Malabsorption.
Von Willebrand's disease.
Vit K deficiency.
Fibrin breakdown products.
Leukemia.
Drugs.
International normalized ratio = INR
Definition
This is the ratio of the patient's prothrombin time (PT) and the normal mean PT time raised to the power of the international sensitivity index.
Indications
This is done for routine health screenings.
To evaluate the medical condition is improving or worsening.
To assess to measure the success or failure of a medication or treatment plan.
Purpose of the INR
This is done to evaluate the following conditions:
Antiphospholipid syndrome
Atrial fibrillation
Heart valve replacement (prosthesis).
Some cases of heart failure (Cardiomyopathy).
Thrombophilia.
Venous thromboembolism.
Normal INR
The

INR

test result is given as a number.

INR

= 1 represents equal to normal clotting time.

INR

= 2 represents twice the normal clotting time.

Normal value =1.0 to 1.5

Critical value = > 5.5

DVT

patient on warfarin treatment = Expected range of INR is 2.0 to 3.0
Table showing the required value of INR in various diseases.
Disease
Required

INR

value
Atrial fibrillation
2.0 to 3.0
Prosthetic valve prophylaxis
3.0 to 4.0
Pulmonary embolism
2.5 to 3.5
Orthopedic surgery
2.0 to 3.0
Deep vein thrombosis
2.0 to 3.0
Deep vein thrombi. prophylaxis
1.5 to 2.0
Test value for the layman:
This test is advised in the case of patients with the treatment of Heparin or blood-thinning drugs.
PTT and INR also have been done in patients with blood-thinning drugs (warfarin).
Please for more information see PT and PTT.
---