Ceruloplasmin, Copper Toxicity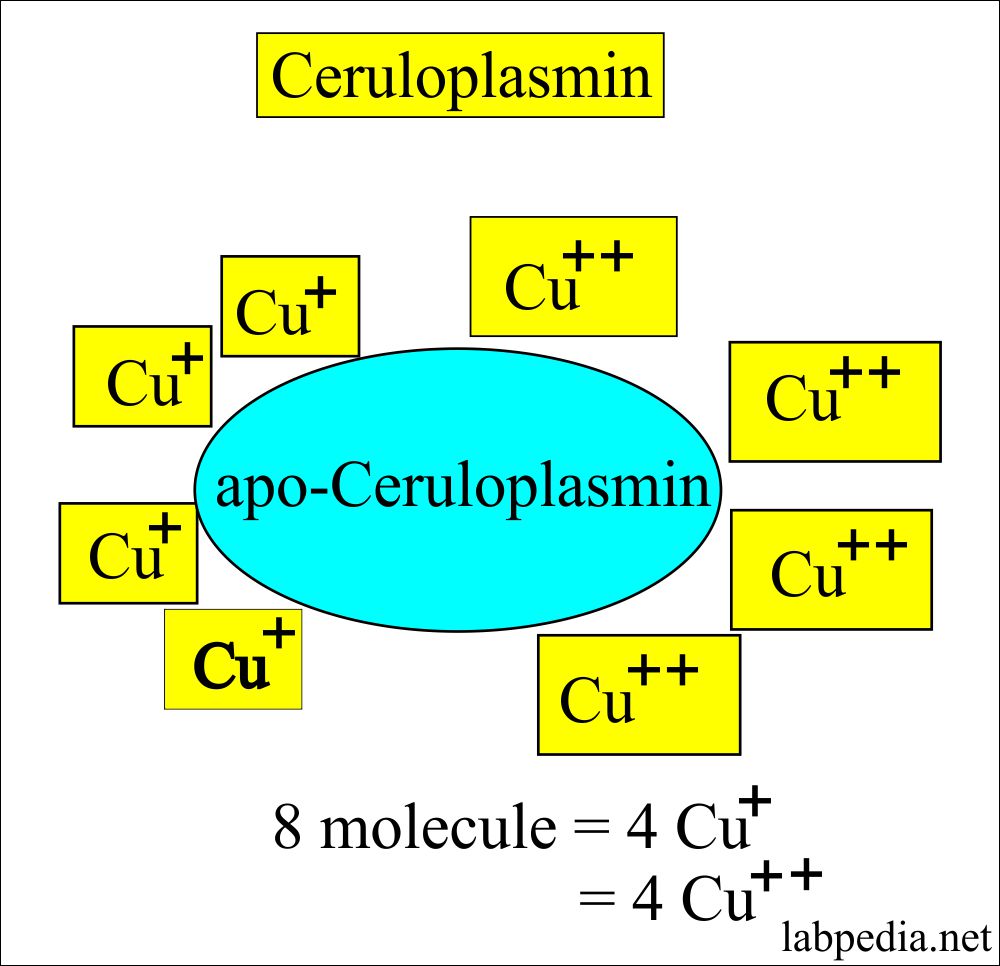 Sample
Venous blood is needed to prepare the serum.
The fresh serum is preferred.
Can store at 4 °C for 3 days.
Can store at -20 °C for 4 weeks.
Precaution
Avoid lipemic and hemolyzed samples.
Purpose of the test
This is an acute-phase protein.
This test is done to diagnose Wilson's disease.
Pathophysiology
Ceruloplasmin is alpha-2 globulin.

It contains 95% of the serum copper and gives it a blue color.
In the case of increased ceruloplasmin, there is a greenish tint of the plasma.
Its main role is oxidation and reduction in the plasma.
Ceruloplasmin will bind copper for transport in the blood.
Ceruloplasmin is synthesized in the liver.
Wilson's disease is an inherited disorder where its level is decreased.
In low ceruloplasmin increase, unbound copper is toxic to tissues.
Copper is absorbed from the gastrointestinal system from the food.

Excess of copper is excreted into the bile by the ceruloplasmin which is produced by the liver.
In the case of deficiency of the ceruloplasmin, copper accumulates in the body.
Ceruloplasmin is a copper-containing protein that accounts for more than 95% of the copper found in the plasma.
Copper functions are the development of:

Nerve.
Bones.
Skin pigments.
Collagen.

Copper can deposit in:

Eye.
Liver.
Brain.
Kidneys.

There is hemolysis, necrosis, and other cellular change that may be caused by lipid peroxidation, a known toxic effect of copper.
urinary copper excretion is increased.

Wilson's disease:

This is also known as hepatolenticular degeneration and progressive lenticular degeneration.
Worldwide it is 1 in 30,000 people.
Most people diagnosed are between the ages of 5 to 35 years., but may be seen in younger and older people (another source = This disease occurs from 6 to 40 years).
This is a rare genetic disease where there is an accumulation of copper (copper toxicity).

It is inherited as an autosomal recessive trait.

Patient inherent one defective gene from one of the couples.

There is a decrease in copper-containing ceruloplasmin in the liver.
Ceruloplasmin level may as low as <20 mg/dL.
Albumin-bound and free copper levels are increased, but total serum copper is low because of low ceruloplasmin.

It can be controlled if diagnosed before the deposition of copper in tissue.
There is an accumulation of copper in the liver, kidney, brain, and cornea.

The patient has symptoms of:

It is seen in Young adults.
There is fatigue, lack of appetite, and pain abdomen.
Hepatitis.
Cirrhosis.
Recurrent neuromuscular incoordination.

Uncontrolled movements or muscle stiffness.

Problems with speech, and swallowing.
Green brown discoloration in the cornea due to the deposition of copper (Kayser-Fleischer rings).
Urinary copper excretion is increased.

Early detection is the key to control the disease.
Ceruloplasmin is an acute-phase protein, so it will be raised in infections, stress, and pregnancy.
Treatment:

This disease is treated by giving the copper chelating agent (penicillamine), or zinc acetate.

Diagnosis:

There is increased urinary excretion of copper, >40 µg/24 hours, and usually is >100 µg/24 hours.
Advise serum or plasma copper levels.

Hepatic copper is raised >210 to 250 µg (dry liver).

Ceruloplasmin level. This is low <20 mg/dL.

<5 mg/dL is diagnostic.

Hemolytic anemia is Coombs negative.
Measurement of superoxide dismutase and cytochrome with oxidase in platelets or leukocytes, help to assessment of copper status.

The complication of Wilson's disease:

scarring of the liver (cirrhosis).
Liver failure.
Persistent neurological disease.
Kidney diseases.
Psychological problems.
Blood problems like anemia, and jaundice.
Normal
Source 1
Adult = 23 to 50 mg/dL.

Neonates = 2 to 13 mg/dL.

>7 years  =  20 to 54 mg/dL
Source 2
| | |
| --- | --- |
| Age  | Level mg/dL |
| 1 day to 3 months | 5 to 18 |
| 6 to 12 months | 33 to 43 |
| 13 to 36 months | 26 to 55 |
| 4 to 5 years | 27 to 56 |
| 6 to 7 years | 24 to 48 |
| >7 years | 20 to 54 |
| Adult | 18 to 45 |
| During pregnancy | Gradually raise and a peak of 2 to 3 of normal |
For conversion to SI unit x 10  = mg /L
The increased level is seen in:
Acute inflammatory diseases.
Pregnancy.
Thyrotoxicosis.
Malignancies.
Autoimmune diseases (Rheumatoid arthritis).
Copper intoxication.
Biliary Cirrhosis.
The decreased level is seen in:
Wilson's disease.
In early infancy age before 6 months.
Sprue.
Kwashiorkor.
Nephrotic syndrome.
Starvation.
The inherited defect of production of alpha 2 globulin.
---