Calcium:- Part 2 – Ionized (Ca), Free Calcium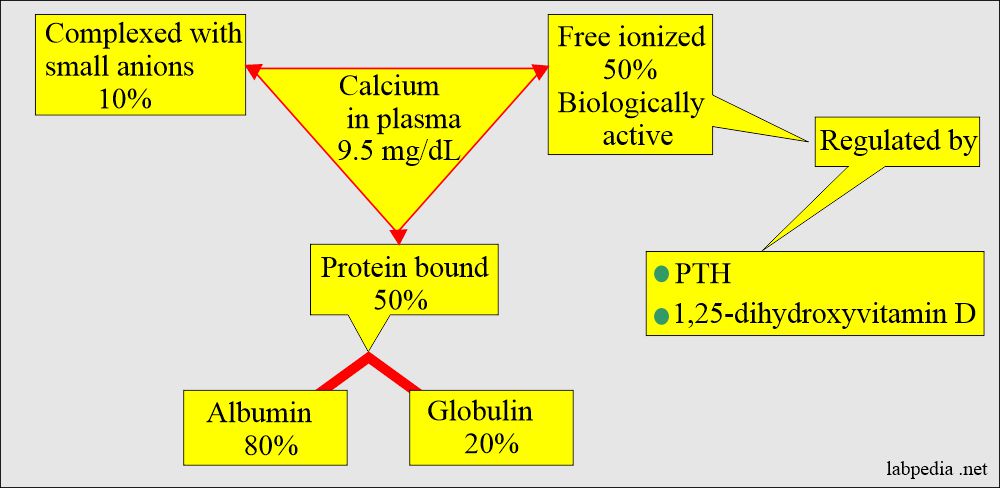 Sample
Collect blood anaerobically and draw without pressure or stasis.
The sample is stable for 6 hours at 4 °C.
Plasma or serum can be stored for a longer period at -20 °C.
The non-fasting sample is acceptable.

The prolonged tourniquet should be avoided because it will lower pH and increase calcium.
Purpose of the test (Indication):
This test is used to determine physiologically active or free Calcium in patients with altered proteins e.g in chronic renal failure, nephrotic syndrome, malabsorption, and multiple myeloma.
Ionized calcium values reflect calcium metabolism better than total calcium.
A significant decrease in ionized calcium regardless of total calcium may lead to an increase in neuromuscular irritability and tetany.
This is also advised in parathyroid diseases.
Precautions:
Fasting specimen is preferred.

The prolonged tourniquet should be avoided because it will lower pH and increase calcium.

Serum pH can affect the calcium level. A decreased pH can cause an increased level of calcium.

Venous stasis or erect posture increased the calcium level by 0.6 mg/dL.

There is diurnal variation, higher in PM (about 9 PM) than AM (lowest level).

Separate immediately from RBCs to avoid uptake of calcium by these cells (RBCs).

Excessive intake of milk leads to increased calcium levels.

Vitamin D intoxication also increases the calcium level.

Check the albumin level because hypoalbuminemia leads to an artificial decrease in the calcium level.

Drugs may increase the serum calcium level like calcium salts, alkaline antacids, thiazide diuretics, vitamin D, parathyroid and thyroid hormones, and androgens.

Drugs may decrease the calcium level like aspirin, anticonvulsant, heparin, laxatives, diuretics, magnesium salts, and oral contraceptives.
Pathophysiology:
The routine serum calcium measures total serum calcium value.
99% of the calcium is present in the bone structure.

It is present in soft tissue = 1%
It is present in extracellular fluid = 0.2%.

Calcium in serum is:

50% Nonbound calcium, also called Ionized or free dialysable calcium. Free or ionized is the active form.
50% is bound to protein. The protein-bound fraction of calcium is bound to albumin (70% to 80%).
5% is complexed with non-protein compounds (ions) like citrate, phosphate, sulfate, and bicarbonate.

Ionized calcium or free (dialysable) calcium exert its physiological effects upon:

The neuromuscular junction.
Membranes.
Bone deposition.

The most valuable clinical information is provided by a knowledge of the concentration of Free (ionized) Ca++ rather than of total Ca++ in primary hyperparathyroidism.
In some of the patients with primary hyperparathyroidism, there is an increase in ionized calcium, but total calcium is normal.
Ionized calcium (hypercalcemia) may be seen in:

Multiple myeloma.
Sarcoidosis.
Hypervitaminosis D.
Metastatic carcinoma infiltrates in the bone.

Most of the labs have no facility to measure ionized calcium.

Ionized calcium can be measured by the ion-selective electrode.
There are formulas by which you can calculate the ionized calcium from the total serum calcium.
Functions of the calcium:

All body cells need calcium.
Calcium is needed for strong muscles and bones.
This is also important for the normal function of the heart.
Calcium is necessary for nerve signals.
Calcium helps in the contraction of muscles.
Calcium maintains plasma membrane potential.
This is a cofactor in the enzymatic reaction.
Calcium is needed for the blood clotting mechanism.
Calcium is needed for the blood clotting mechanism.
Normal Ionized Calcium:
Source 1
Ionized calcium

Whole blood adult = 4.65 to 5.28 mg/dL (1.175 to 1.375 mmol/L)
Newborn = 4.20 to 5.58 mg/dL.
The ratio of ionized Ca++ to total Ca++ = 48 to 56%.
Source 2
Newborn = 4.20 to 5.58 mg/dL  (1.05 to 1.37 mmol/L).
2 months to 18 years = 4.80 to 5.52 mg/dL  (1.20 to 1.38 mmol/L).
Adult = 4.5 to 5.6 mg/dL (1.05 to 1.3 mmol/L).
| | | | |
| --- | --- | --- | --- |
| Age  | Whole blood mg/dL | Serum mg/dL | Capillary blood mg/dL |
| Cord blood | | 5.20 to 6.40 | |
| 2 hours | | 4.84 to 5.84 | |
| 24 hours | | 4.40 to 5.44 | 4.20 to 5.48 |
| 3 days | | 4.60 to 5.68 | 4.40 to 5.68 |
| 5 days | | 4.88 to 5.92 | 4.80 to 5.92 |
| Youth | | 4.80 to 5.52 | |
| Adults | | 4.64 to 5.28 | |
| 18 to 60 years | 4.60 to 5.08 | | |
| 60 to 90 years | 4.64 to 5.16 | | |
| >90 years | 4.48 to 5.28 | | |
To convert into SI unit multiplying factor is x 0.25 = mmol/L
The increased level is seen in:
Primary hyperparathyroidism.
PTH-producing tumors.
Various malignancies.
Excess intake of vit.D.
The decreased level is seen in:
primary hypoparathyroidism.
Vitamin D deficiency.
After blood transfusion.
After major surgery.
Trauma, burns, and sepsis.
Pancreatitis.
After hemodialysis.
Multiple organ failures.
Please see more details on the Calcium level (total) part 1.
Natural foods a good source of calcium:
| | | |
| --- | --- | --- |
| Food  | Quantity | Amount of calcium |
| Kale | one cup | 245 mg |
| Milk |  one cup | 305 mg |
| Yogurt | 6 oz | 300 mg |
| Cheese | one oz | 224 mg |
| Dried figs | 8 whole figs | 107 mg |
|  White Beans | one cup | 191 mg |
| Turnip greens | one cup | 195 mg |
| Black-eyed beans | 1/2 cup | 185 mg |
| Canned salmon | 1/2 cup | 232 mg |
| Orange juice | one cup | 500 mg |
| Orange | one medium | 65 mg |
| Sesame seed | one teaspoon | 88 mg |
| Almond | 1/2 cup dry roasted | 72 mg |
| Instant oatmeal | one cup | 187 mg |
| Soy milk | one cup | 300 mg |
| Firm Tofu | 1/2 cup | 861 mg |
| Broccoli | one cup | 62 mg |
---