Calcium:- Part 1 – Calcium Total, and Ionized Calcium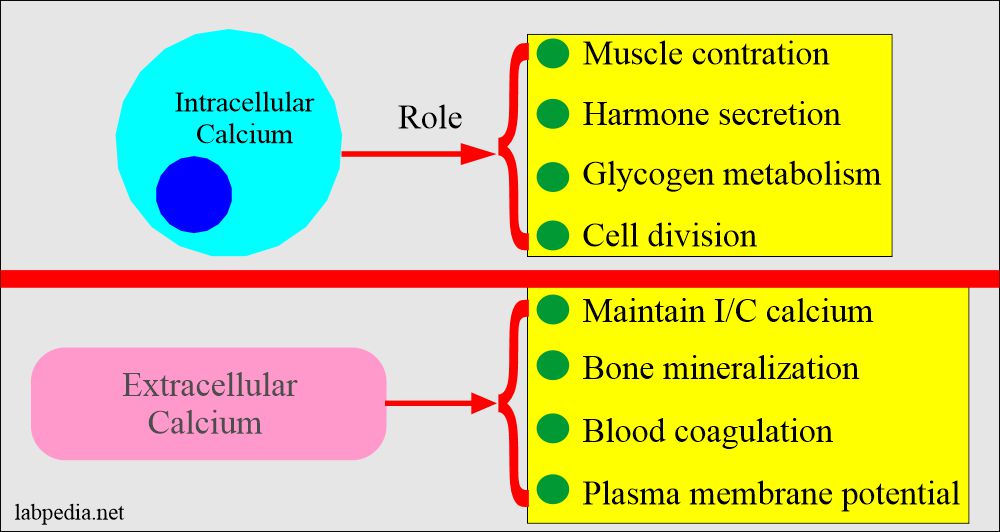 Sample
It is done on the serum of the patient.
The blood should be collected without much pressure on the arm.

Avoid prolonged tourniquet.

EDTA

cannot be used as an anticoagulant for the plasma.
Obtain blood with minimal venous occlusion and without exercise or after restoring circulation.
The serum is stable for 8 hours at 22 to 25 °C. But can keep at 4 °C for a longer period.
Precautions
Fasting specimen is preferred.

Venous stasis or erect posture increased the calcium level by 0.6 mg/dL.

There is diurnal variation, higher in PM (around 9 PM) than AM (lowest).

Separate serum immediately from RBCs to avoid uptake of calcium by these cells (RBCs).

Excessive intake of milk leads to increased calcium levels.

Vitamin D intoxication also increases the calcium level.

Check the albumin level because hypoalbuminemia leads to an artificial decrease in the calcium level.

Drugs may increase the serum calcium level like calcium salts, alkaline antacids, thiazide diuretics, vitamin D, parathyroid and thyroid hormones, and androgens.

Drugs may decrease the calcium level like aspirin, anticonvulsant, heparin, laxatives, diuretics, magnesium salts, and oral contraceptives.
Purpose of serum calcium (Indications)
The serum level of calcium is used to evaluate parathyroid function and metabolism.
Serum calcium level is used to monitor renal failure and renal transplantation.
Serum calcium level is used to evaluate hyperparathyroidism.
Serum calcium levels may be done in malignancies like multiple myeloma.
Serum calcium levels may be done to monitor calcium levels before and after blood transfusions.
Pathophysiology of Calcium
Definition:

Calcium (Ca ++) is the 5th most common element and most common cation in our body.
The average human body contains around 1 kg (24.95 mol) of calcium.
Calcium is found in the skeleton, soft tissue, and extracellular fluid.
A calcium daily intake of calcium is about 400 mg is needed by the body.

The minerals required by the body are:

Sodium.
Potassium.
Calcium.
Chloride.
Phosphorus.
Magnesium.
Organically bound-S.

Other elements required in trace amount  are:

Iron.
Zinc.
Copper.
Manganese.
Selenium.
Chromium.
Molybdenum.
Cobalt.
Iodine.
Calcium:
Calcium distribution:

There is a large amount of calcium in the body and mainly in the bones and teeth.
About 99% of calcium is deposited in the skeleton as a mixture of:

Amorphous calcium phosphate.
Crystalline hydroxyapatite.
Calcium phosphate crystal (hydrated).

A small amount of is fluoride incorporated in the calcium phosphate in the teeth and bone.
Half of the calcium in blood circulation is free in ionized form and half is in the protein-bound form mostly with albumin.

50% free or ionized (active) form.
40% is bound to protein.

80% of calcium is bound to albumin and 20% is bound to globulin.

10% is complexed with anions.

Some physician prefers ionized serum calcium level to avoid the effect of albumin level.

Complexed calcium is complexed with small diffusible anions:

Bicarbonate.
Lactate.
Phosphate.
Citrate.

Calcium in the blood is virtually all present in the plasma.
It increases in acidosis and decreases in alkalosis.
An increase in the plasma proteins leads to an increase in serum total calcium.

Decreased plasma proteins lead to a decrease in the total serum calcium.

Half of the calcium in blood circulation is free in ionized form and half is in the protein-bound form mostly with albumin.
Distribution of the calcium in the body:
| | | |
| --- | --- | --- |
| Presence of Calcium in the body | Calcium amount | Phosphate amount |
| Total calcium | 1000 g | 600 g |
| Extracellular fluid | <0.2% | <0.1% |
| Soft tissue | 1.0% | 15.0% |
| Skeleton (bones) | 99.0% | 85.0% |
Intake of calcium and balance:

Most individuals ingest 500 to 1000 mg of calcium per day in the food.

They excrete excess amounts in the feces and urine.
Dairy products like milk and cheese are a good source of calcium.
A large amount of dietary calcium is not absorbed because of the formation of insoluble calcium compounds like PO4, oxalate, phytate, and soap in the intestine and excreted in the feces.

calcium balance is maintained by:

Absorption of the calcium from the intestine.
Excretion by the kidneys.
Movement of calcium in and out of the bones.

Calcium phosphate in the bone is not an inert substance.
There is dynamic equilibrium with Ca++ and HPO4– of the body fluids by resorption and deposition.
3. Calcium functions:

Calcium is also needed to maintain metabolic processes like muscle contraction, the transmission of neural impulses, clotting of the blood, cardiac function, and inhibit cell destruction.
Calcium stabilizes the plasma membranes and influences permeability and excitability.
The intracellular calcium functions are:

Muscle contraction.
Hormone secretion.
Glycogen metabolism.
Cell division.
Activation of enzymes.
Transfer of the ions across the cell membrane.

The intracellular calcium is bound to:

Protein in the cell membrane.
Present in the mitochondria.
Present in the nucleus.
The extracellular calcium functions are (Extracellaur calcium provides calcium ions for):

Bone Mineralization.
Blood coagulation factors.

Plasma membrane potential.
Maintenance of intracellular calcium.
Calcium decreases neuromuscular excitability.
Calcium control mechanism:

Normally the level of calcium in the blood is carefully controlled. When blood calcium levels get low is called hypocalcemia.

The bones release calcium to bring them back to a good blood level.

When blood calcium levels get high is called Hypercalcemia.

The extra calcium is stored in the bones or passed out of the body in stool and urine.

Body serum calcium levels are maintained by a balance between parathyroid Hormone

PTH

(Parathyroid gland hormone, calcium regulating hormone) and calcitonin (produced by C or parafollicular cells of the thyroid).
The ectopic PTH-like hormone may be secreted by the tumors of the lung, breast, and kidney.
PTH

increases the serum calcium level by increasing bone resorption and mobilizing Calcium.

PTH

indirectly increases the absorption of calcium from the gastrointestinal tract by the production of the vit. D.
PTH

also increases the excretion of phosphate in the urine.

Calcitonin decreases serum calcium and phosphate levels by inhibiting bone resorption.
Decrease calcium level increases

PTH

which acts on the reservoir of calcium and leads to its release into the circulation.

Calcium binds to negative charge sites on the proteins and it is dependant upon the pH.
In alkalosis there are increased negative charge sites on proteins leads to increased binding of the calcium and decreases the free calcium level.
While in acidosis is the reverse that there are decreased negative charge sites and will lead to increased free calcium.
A patient with low serum albumin will have low serum calcium.
So the serum albumin level may be estimated with serum calcium level. Serum calcium level decreases 0.8 mg with every decrease of 1 gram albumin.
To label hypercalcemia, one should have:
Three separate raised levels of calcium.
Serum or plasma calcium = >10.3 mg/dL
Ionized calcium = >1.30 mmol/L.
Hypocalcemia:
Etiology:
The most common cause is hypoalbuminemia.

1 gram/dL of albumin binds 0.8 mg/dL of calcium.

So there may be decreased albumin-bound calcium.
Or decrease in free calcium.

chronic renal failure leads to hypocalcemia because:

There is an increased loss of protein by the kidney in the urine.
There is hyperphosphatemia.
There is decreased serum 1,25(OH)2 D.
There is skeletal resistance to PTH.

Signs and symptoms:

Neuromuscular hyperexcitability.

Like tetany.
Paresthesia.
Seizures.

A rapid fall in calcium level may lead to hypotension.
Acute symptomatic hypocalcemia may be associated with:

Rapid remineralization of the bone after the surgery of primary hyperparathyroidism is called a hungry bone syndrome.
Acute pancreatitis.
Hypercalcemia:
Etiology:

Hypercalcemia is due to an increase in the increased influx of calcium into the extracellular compartment from the:

Skeletal system.
Intestine.
Kidney.

Primary hyperparathyroidism is the most common cause in outdoor patients.
Malignancy is the most common cause of hospitalized patients.

The above two conditions constitute 90 to 95% of the causes of hypercalcemia.

Also seen in 10 to 20% of the cases of cancers.
Some lymphomas may produce 1,25(OH)2 D  and cause hypercalcemia.

Symptoms are:

Anorexia.
Lethargy.
Nausea.
Vomiting.
Ultimately coma.
Other patients may show:

 Nervousness.
Excitability.
Tetany.
A normal level of total serum Calcium:
Source 1
Infant to one month = 7.0 to 11.5 mg/dL.
One month to one year = 8.6 to 10.2 mg/ dL.
Adult = 9 to 10.5 mg/dL.

Its low level may lead to tetany.
Source 2
| | |
| --- | --- |
| Age  | mg/dL |
| Cord blood | 8.2 to 11.2 |
| Premature | 6.2 to 11.0 |
| 0 to 10 days | 7.6 to 10.4 |
| 10 days to 2 years | 9.0 to 11.0 |
| 2 years to 12 years | 8.8  to 10.8 |
| 12  to 18 years | 8.4 to 10.2 |
| 18 to 60 years | 8.6 to 10 .0 |
| 60 to 90 years | 8.8 to 10.2 |
| >90 years | 8.2 to 9.6 |
The conversion factor is x 0.25 for SI unit mmol/L
Hypercalcemia may be seen in the following conditions (plasma level = >10.5 mg/dL):
Hyperparathyroidism.
Hyperthyroidism.
Metastatic bone tumor of lung, breast, and kidney.
Milk-alkali syndrome.
Multiple myelomas.
Paget's disease.
Sarcoidosis.
Tumors producing a PTH-like substance.
Vitamin D intoxication.
Excessive calcium intake.
Prolonged immobilization.
Thiazide diuretics.
Withdrawal of steroids.
The majority (80 to 90 %) of the hypercalcemia cases are due to hyperparathyroidism or malignancy.
Hypocalcemia may be seen in the following conditions (plasma level = <8.5 mg/dL):
Hypoparathyroidism.
Pseudohypoparathyroidism is due to a lack of response to PTH.
Malabsorption (inadequate absorption of nutrients from the intestinal tract).
Hypoalbuminemia.
Osteomalacia
Pancreatitis
Renal failure (chronic).
Rickets and vitamin D deficiency
Liver disease (decreased albumin production).
Hypomagnesemia.
The most common cause of hypocalcemia is Hypoalbuminemia, in which the ionized fraction may be normal, while the total calcium level is decreased due to the low percentage of calcium bound to albumin.
A correction formula is needed as follows:

Corrected calcium level = measured calcium — albumin g/dL + 4

Acute hypo or hypercalcemia can be life-threatening
Causes of Hypercalcemia (>10.5 mg/dL):
Clinical condition     
 Etiological  causes
Primary hyperparathyroidism       
Parathyroid adenoma
Parathyroid carcinoma
Tertiary hyperparathyroidism
due to post-renal transplant
Drugs 
Thiazides
An antacid containing calcium
Milk-alkali syndrome
Hypervitaminosis
Granulomatous diseases
Sarcoidosis
Endocrine abnormality
Hyperthyroidism
Acromegaly
Addison's disease
cancers
In most of the malignant tumors
Multiple myelomas
Renal cell carcinoma
Liver cell carcinoma
Lymphomas
Islet cell tumor
Ovary Carcinoma
 Natural foods a good source of calcium:
| | | |
| --- | --- | --- |
| Food  | Quantity | Amount of calcium |
| Kale | one cup | 245 mg |
| Milk |  one cup | 305 mg |
| Yogurt | 6 oz | 300 mg |
| Cheese | one oz | 224 mg |
| Dried figs | 8 whole figs | 107 mg |
|  White Beans | one cup | 191 mg |
| Turnip greens | one cup | 195 mg |
| Black-eyed beans | 1/2 cup | 185 mg |
| Canned salmon | 1/2 cup | 232 mg |
| Orange juice | one cup | 500 mg |
| Orange | one medium | 65 mg |
| Sesame seed | one teaspoon | 88 mg |
| Almond | 1/2 cup dry roasted | 72 mg |
| Instant oatmeal | one cup | 187 mg |
| Soy milk | one cup | 300 mg |
| Firm Tofu | 1/2 cup | 861 mg |
| Broccoli | one cup | 62 mg |
Critical values:
> 14 mg/dL Hypercalcemia leads to come and cardiac arrest.
< 4 mg/dL Hypocalcemia leads to tetany (another reference says <6.5 mg/dL).
---