Brucella Antigen (Brucellosis), Diagnosis of Brucella Infection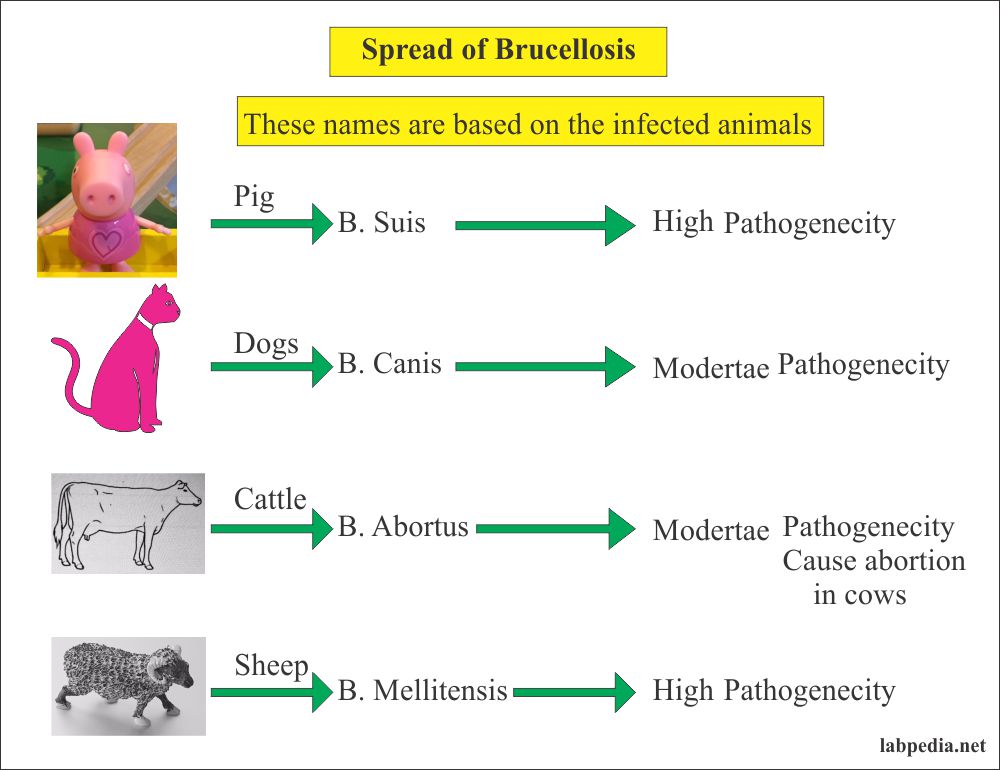 Sample
It is done on the serum of the patient.

The serum is taken in the first week of illness and later on in the 3 to 4 weeks.

Brucella can be cultured from the blood, sputum, bone marrow,

CSF,

 tissue, lymph node, and urine.
Indication
Patient with fever.
Patient with a suspected history of contact with castles.
Patient with signs and symptoms of Brucella infection.
Pathology
Microbiology:
Brucellosis is caused by the Brucella abortus, B.suis, B. melitensis, or B.canis.
Brucella is aerobic gram-negative bacilli.

Short, slender, pleomorphic, gram-negative bacilli.
Brucella is an oxidase-positive, urease variable.
Brucella is nonmotile.
These are non-sporing.
Culture media:

Enriched medium such as glucose serum or liver infusion broth or agar.

Small transparent colonies develop after several days, incubation at 37 °C  in aerobic conditions.
CO2 is needed for the growth of B. abortus.

There is growth in selective buffered charcoal yeast extract and Thayer-Martin medium.
| | | | |
| --- | --- | --- | --- |
| Characteristic features | B. abortus | B. melitensis | B. sius |
| Biotypes of Brucella | 8 | 3 | 4 |
| Production of H2S | positive | negative | positive |
| Growth need for CO2 | positive | negative | negative |
| Growth in | | | |
| Basic fuchsin | positive | positive | negative |
| Thionine | negative | positive | positive |
| Methyl violet | positive | positive | negative |
| Lysis by phage Tb | positive | negative | negative |
| Antibody Titer positive | >1:320 | >1:320 | >1:320 |
Mode of spread:

It is by ingestion of contaminated milk products especially goat milk.
Sheep, goats, cows, or camels when infected with these bacteria, then their milk is also contaminated.
These names are based on infected animals.
Brucella mostly spread by unpasteurized milk or raw dairy products.
Direct puncture of the skin of butchers and farmers. These bacteria can enter through the skin and mucous membranes.

Brucella can spread through inhalation.
Brucella can penetrate the skin, conjunctiva, lungs, and GI Tract.

Penetration is followed by the lymphatics spread.

There is a facultative intracellular growth in the macrophages.
It also involves the organs.
Type of Brucella:
There are following types of Brucella:

Brucella abortus source is from cattle and has moderate pathogenicity.
Brucella melitensis source is sheep, and these are highly pathogenic.
Brucella Canis source is from dogs and has moderate pathogenicity.
Brucella Sui's source is from pig and these are highly pathogenic.
Antigenic structure:
Three species share two antigens A and M.

B. melitensis contains an excess of M antigen.
B. abortus and suis contain an excess of An antigen.

Monospecific antisera can be prepared and are used for identification.
Sign and symptoms:
This may be the acute or insidious onset of the symptoms.
This is a multisystem disease characterized by the acute or insidious onset of signs and symptoms.
There may be fever, chills, and night sweating.

The fever peak is in the evening and slowly returns to normal by morning.
Undulant fever because of a slow rise in temperature during the day, declining at night.

There is undue fatigue.
There is anorexia, weight loss.
There may be a headache and arthralgia.
There may be pain muscles, joints, or back.
Sometimes there is lymphadenopathy.
If not treated then these patients may have:

Arthritis.
Recurrent fever.
Swelling of the scrotal area and testes.
Depression.
Chronic fatigue.
May develop endocarditis.
Splenomegaly and hepatomegaly are a common finding.
Spondylitis is also common.

These symptoms may last months to years but the outcome is not fatal.
Complications:
The patient may develop endocarditis.
There may be arthritis and osteomyelitis.
The infection of the testes gives rise to epididymal orchitis.
CNS involvement may lead to meningitis or encephalitis.
Inflammation of the liver and spleen leads to splenomegaly and hepatomegaly.
Prevention of Brucellosis:
Please avoid the following:

Use of unpasteurized milk and dairy products (cheese, ice cream).
When handling animals, use preventive measures like gloves, etc.
Brucella diagnosis:
By serological test detecting the Brucella antibodies.
By culture of:

Blood.
Bone marrow.
CSF.
Sputum.
Food specimen.
Biopsy and culture of affected tissue and organs.

By immunofluorescent demonstration of the organism in the clinical specimens.
A skin test with brucellergin is available, but a positive result only indicates exposure to the organism and does not prove active disease.
Serology Normal values
Source 1
This is the detection of the presence of antibodies against the Brucella antigen.
The significant level is > 1: 320
Borderline cases  1: 160
Source 2
A rising titer ≥ 1:160 suggests infection, either past or present.
A single titer 1:160 or 1:320 may be suggestive if there are clinical S/S of brucellosis.

It can prevent the prozone phenomenon by diluting the serum  ≥1: 1280.

Antibody level decreases in 3 months or with antibiotics but it will persist at a low level for years especially in chronic infection.
Treatment
These bacteria are sensitive to tetracycline, combined with streptomycin. This combination is the choice of treatment.
---