Blood urea nitrogen/Creatinine ratio (BUN/Creatinine ratio)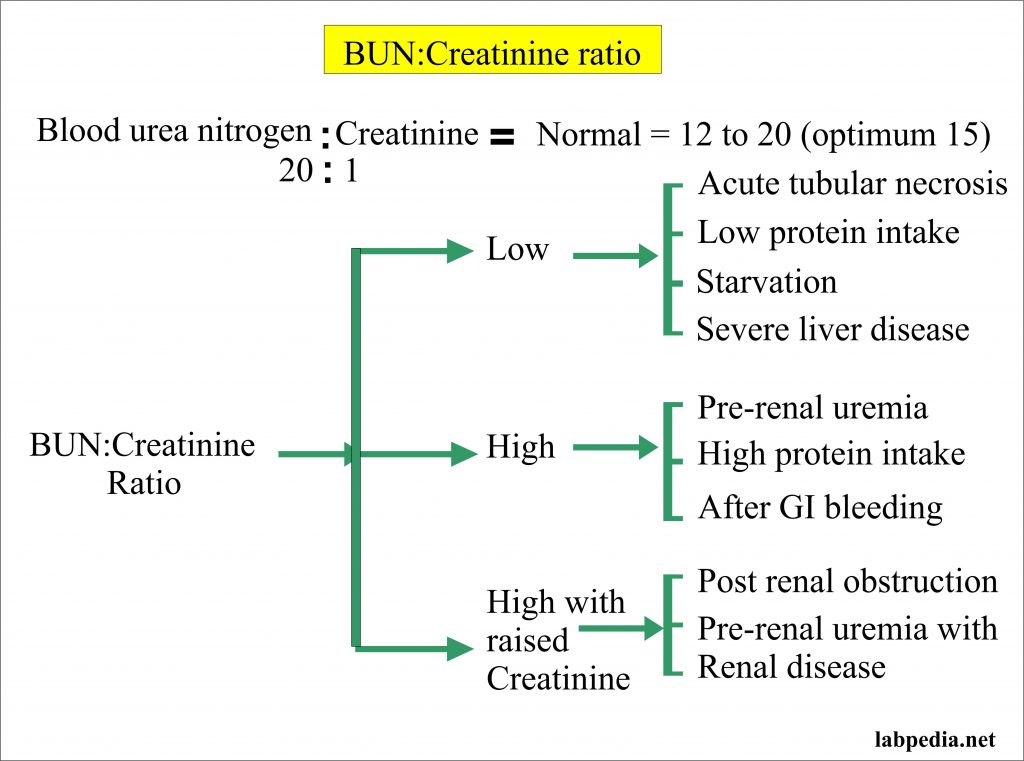 Sample
Fresh serum of the patient is needed.
Estimate serum BUN and Creatinine.
Indication
To find the cause of azotemia or renal failure.
Calculation
Normal
BUN

/ creatinine ratio = 10 :1 = 6 to 25

optimum adult level = 15.5
Interpretations
BUN/Creatinine ratio differentiate between acute and chronic renal disease.

Prerenal azotemia appears when there is poor renal perfusion like hypovolemia, hypotension.

The value is > 15:1 seen in dehydration and hypotension.

Postrenal azotemia is due to obstruction.
BUN/Creatinine ratio is maintained when BUN and creatinine are raised:
This is suggestive of renal diseases like:

 Intrarenal glomerulonephritis.
Tubulointerstitial nephritis.
This is referred to as renal azotemia.
BUN

/Creatinine ratio is raised, this is suggestive of:
  Prerenal azotemia:

There is poor renal perfusion like hypovolemia or hypotension.

 Postrenal azotemia:

Seen in congestive heart failure.
Urinary tract obstruction.
Gastrointestinal bleeding.
Trauma.
BUN

/Creatinine ratio is decreased suggestive of:
This is rare and seen in: 

 Dietary protein deficiency
  Severe liver disease
Prerenal acute failure = BUN/Creatinine ratio  > 20 : 1
Renal acute failure  = BUN/Creatinine ratio < 20 : 1
Suggest renal azotemia or late postrenal azotemia when  BUN / Creatinine ratio = < 10:1
Table differentiating acute prerenal and renal failure
| | | | |
| --- | --- | --- | --- |
| Lab tests | Acute renal failure  | Prerenal acute renal failure | Postrenal acute renal failure |
| Etiology | Renal (prerenal or postrenal) | Decreased renal perfusion | Obstruction of the renal collecting system |
| BUN/ Creatinine ratio | <20:1 (<10) | >20:1  (>20) | raised |
| Urine specific gravity | <1.010 | >1.020 | raised |
---