Blood sample which should be discarded, and Effect of Pressure While Collecting the Blood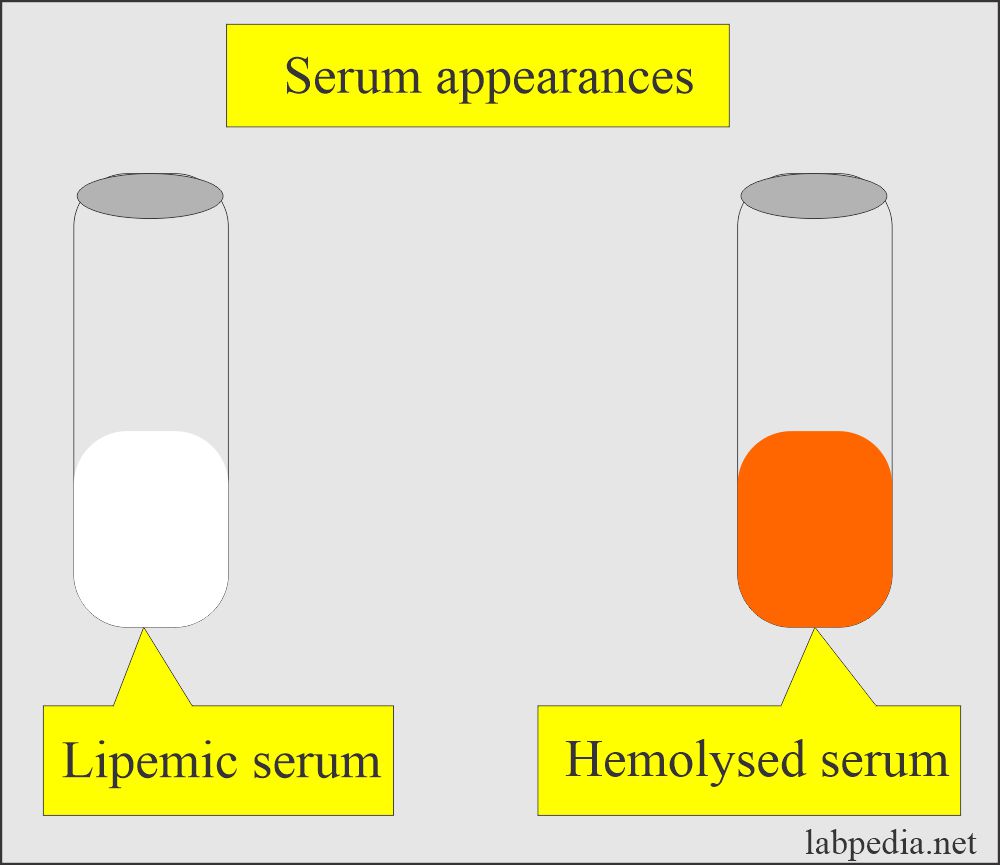 Whenever you find the following possibilities, reject the sample, and try to get another fresh sample.
Samples to be rejected are:
 Hemolyzed sample:

Serum shows evidence of hemolysis when the hemoglobin is >20 G/dL.
Slight hemolysis does not affect most of the test values.
Severe hemolysis causes a dilutional effect of those constituents, which has a low concentration in the RBCs than the plasma.
There will be a marked effect of those parameters present in high RBCs concentrations than in the plasma.
Hemolysis will increase the value of:

Aldolase.
Lactate dehydrogenase (LDH).
Total acid phosphatase.
Magnesium.
Potassium.
Phosphate.

Lipemic serum:

Serum with lipemic appearance  will affect chemistry tests like:
Phosphorus.
Creatinine.
Total protein.
Calcium.
ALT (Alanine aminotransferase).

Ultracentrifugation can remove the effect of lipemia.
The sample for CBC is unsuitable if there are clots and is hemolyzed.

If there are microclots, are not suitable for Cell counting, it will give a low count.

If there is an insufficient blood sample.
If the sample is not labeled.
If there is a discrepancy between the sample and the request form.
If the blood sample is insufficient in quantity.
Poor handling of the sample when there is the effect of light.
Sample collected at the wrong time.
If there is contamination of the sample.
Changes in the  blood/serum when the vein is pressurized too much:
Most of the time tourniquet is used to put pressure on the vein to make it prominent.
When a blood pressure cuff is used, then mostly the pressure given is  ∼60 mm Hg.
Never leave the velcro pressure cuff for more than one minute, but it will give changes in the blood chemistry even with a shorter period of time.
If the cuff is applied for 1 to 3 minutes, it will lead to blood chemistry changes:
| | | |
| --- | --- | --- |
| Parameters | Increase in concentration | Decrease in concentration |
| Potassium | | 6.2% |
| Bilirubin | 8.4% | |
| Cholesterol | 5.1% | |
| Total lipid | 4.7% | |
| Total protein | 4.9% | |
| AST (SGOT) | 9.3% | |
| Iron | 6.7% | |
The blood sample near the tourniquet has the same composition as the circulating blood.
So use the first sample for the critical values like serum calcium.
The first tube may show a 5% increase in the protein level, while the third tube shows a 10% change.
In the case of slight trauma to the skin may increase the enzymes (SGOT).
In the case of stress to the patient will increase in the growth hormone and cortisol.
---