Antinuclear Factor (ANF), Antinuclear Antibody ANA)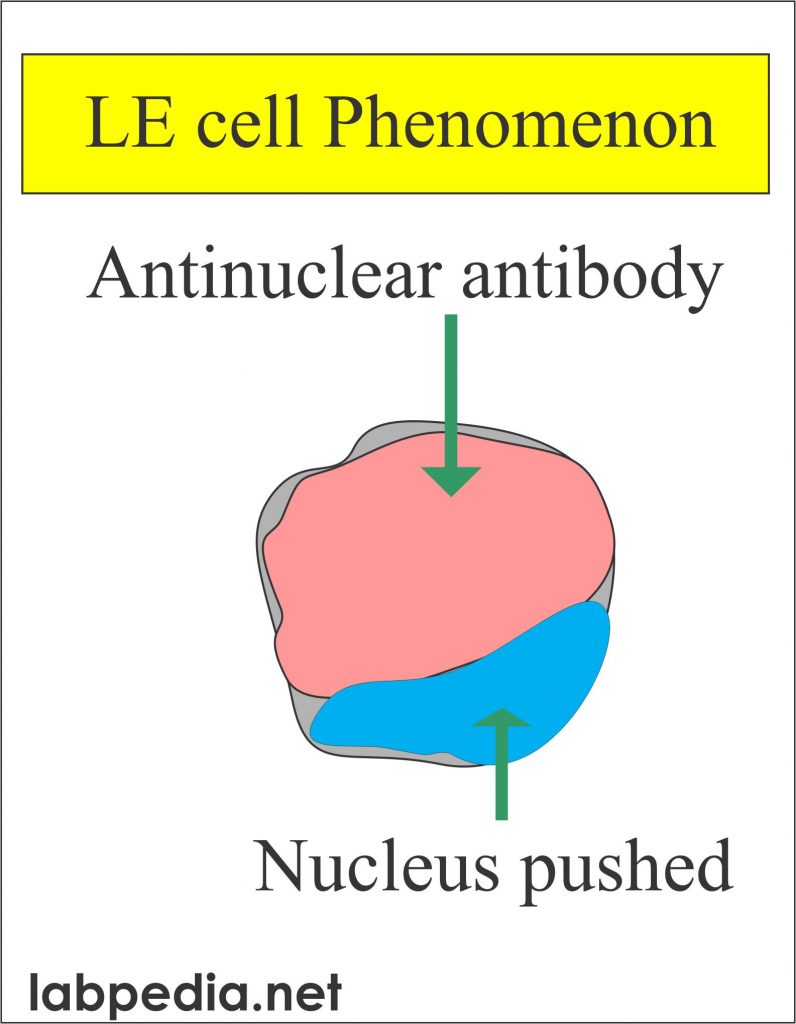 Sample
This test is done on the serum of the patient.

How to get good serum: Take 3 to 5 ml of blood in the disposable syringe or in vacutainer. Keep the syringe for 15 to 30 minutes at 37 °C and then centrifuge for 2 to 4 minutes to get the clear serum.

No fasting or preparation is required.
Purpose of the test (Indications)
For the diagnosis of Systemic lupus erythematosus (

SLE

).
Positive in other autoimmune diseases.
Precautions
Drugs may cause false-positive tests like aminosalicylic acid, chlorothiazide, procainamide,  hydralazine, acetazolamide, penicillin, phenytoin sodium, and griseofulvin.
Drugs may cause a false-negative test like steroids.
This test may be positive after the viral infection and some of the chronic infection.
Pathophysiology
The antinuclear antibodies are produced in connective tissue diseases (autoimmune diseases ) against various antigens in the nucleus like

RNA

, DNA, histones, and ribonucleoprotein.
Autoantibodies are directed against nuclear material (

ANA

) or against cytoplasmic material called anti-cytoplasmic antibodies.
The major anti-nuclear antigens are:

DNA (double and single-stranded).
Histones.
Nuclear proteins.
RNA

95% of

SLE

patients show

ANA

.
This

ANA

is not specific for SLE, so it has to be supplemented by other tests.
Fluorescent staining under an ultraviolet microscope shows different patterns and increase the specificity of this test.
Fluorescent patterns show different staining in the nucleus e.g.:

The homogeneous pattern is seen in

SLE

and mixed connective tissue disease.
Peripheral outline only is seen in

SLE

.
The speckled pattern has seen other autoimmune diseases like

SLE

, Sjogren's syndrome, Scleroderma, Rheumatoid arthritis., and mixed connective tissue disease.
The nuclear pattern is seen in Scleroderma and Polymyositis.
Table showing the pattern of ANA (immunofluorescence staining) in various diseases:
| | | | | |
| --- | --- | --- | --- | --- |
| Diseases | Homogenous pattern | Peripheral Pattern | Speckled pattern | Nucleolar pattern |
| SLE | + positive | + positive | + positive | + positive |
| Mixed connective disease | + positive | | + positive | |
| Scleroderma | | | + positive | + positive |
| Rheumatoid arthritis | | | + positive | |
| Sjogren's syndrome | | | + positive | |
| Polymyositis | | | + positive | + positive |
ANA

is gamma globulin and belongs to more than one type of immunoglobulin.
There are ANA-negative cases of

SLE

.

Some believe that negative ANA excludes the SLE.
Diseases with positive antinuclear antibodies.
Diseases
Positivity of

ANA

%
another source positivity %

SLE

95
90 to 100
Sjogren's syndrome
60
85
Scleroderma
70
88
Dermatomyositis
30
Rheumatoid arthritis
30
55
Polyarteritis
10
Juvenile arthritis
22
Mixed connective tissue disease
100
Lab diagnosis
Indirect immunofluorescence, where the patient serum (antibody)  has combined with the cells.
EIA technique may replace the indirect immunofluorescence.

ANA has a sensitivity of 99%. A negative ANA test almost excludes the active SLE.
This test may be positive in unrelated diseases of the patients.
Around 20% of the normal population has a titer of 1:40.

Around 5% of the normal population may have a titer of 1:160

When the cutoff titer is 1:40 then specificity is around 80%.

When the cutoff value is 1:160, then specificity is around 95%.

ANA is nonspecific, individual with increasing age show a false-positive result.

50% positive by the age of 80 years with a low titer.
Normal
Source 2
These are negative.

Negative at 1:20 dilution.

When done with a dilution of the serum then titer of more than 1:32 is positive.
Source 4
Negative by ELIZA and IFA method.
If positive by IFA, the sample is titrated and the pattern is reported.

A strong positive result, that is >3 on ELIZA and ≥1:160 by IFA, now needs follow-up of specific autoantibodies.
Significance
A positive test does not confirm the disease because its low titers are seen in old people and in some healthy normal people.
It helps in the diagnosis of Autoimmune diseases and particularly Systemic lupus erythematosus (98%) but with poor specificity.
This test is positive 30 to 50% in other autoimmune diseases such as Rheumatoid arthritis, Sjogren's syndrome (70%) and Polymyositis, and other related diseases.
If

ANA

negative then

SLE

can be excluded.
The positive or increased level of ANA is seen in:
SLE.
Rheumatoid arthritis.
Polyarteritis Nodosa
Dermatomyositis.
Sjogren's syndrome.
Other autoimmune diseases.
Cirrhosis.
Chronic hepatitis.
Leukemia.
Scleroderma.
Multiple sclerosis.
Infections.
Malignancies.
Fibromyalgia.
The nucleus is pushed by the antinuclear antibody.
---