Anti-thyroglobulin antibody (Thyroid auto-antibody, Thyroglobulin antibody)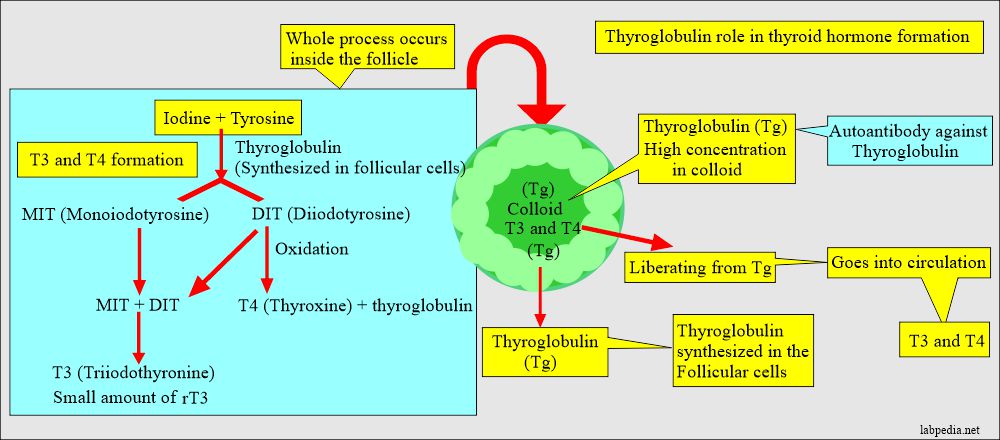 Sample
Collect 3 to 5 ml of blood and prepare serum.
Keep the serum frozen if the test is not done on the same day.
The fasting sample is preferred.
Precaution
Stop multivitamins and any other medication which will interfere with the result.
Oral contraceptives may increase the value.
Older people, especially women, may have antithyroglobulin antibodies.
Purpose of the test (Indications)
useful for the diagnosis of thyroid diseases like Hashimoto's thyroiditis and chronic lymphocytic thyroiditis.
It differentiates Hashimoto's thyroiditis and chronic lymphocytic thyroiditis.
Pathophysiology
Several autoantibodies are organ-specific for the thyroid gland.
The possible thyroid antigens giving rise to antibodies are:

 Hormone antigen.
Thyroglobulin antigen.
Thyroid microsomal antigen.
TSH-R antigen.
Non-thyroglobulin colloidal antigen.

Mostly anti-thyroglobulin and anti-thyroperoxidase are more frequently ordered by the physician.

These are advised to evaluate:

Hypothyroidism.
Hyperthyroidism.
Thyroid malignancies.
In Grave's disease (autoimmune hyperthyroidism).
In Hashimoto's thyroiditis (autoimmune hypothyroidism).

This is an autoimmune phenomenon. There is the formation of autoantibody against thyroglobulin called the anti-thyroglobulin antibody.

Thyroperoxidase is mostly used for autoimmune thyroid diseases.

Thyroglobulin is a glycoprotein, 660 kD, a dimeric protein produced by the follicular cells and is used entirely in the gland.

This is the precursor of the thyroid hormone (thyroxine and triiodothyronine).

Thyroglobulin combines with T4 by oxidation through peptide linkage.
Thyroglobulin is synthesized in the follicular cells.
There is a high concentration of thyroglobulin in the colloid inside the thyroid follicle.
It enters the lumen of the follicle by the process of exocytosis.

The thyroglobulin located in the thyroid follicle can escape the follicle and becomes an antigen.
Thyroperoxidase is located on the cytoplasm of the epithelial cells surrounding the follicles.
Circulating thyroglobulin half-life is about 65 hours.

It takes nearly a month before thyroglobulin becomes undetectable after the total thyroidectomy.
Thyroglobulin is a demo cleared from the blood circulation by the catabolism in the liver and recycling in the thyroid.
These autoantibody reacts with the thyroglobulin and leads to thyroid destruction and inflammation.

Anti-thyroglobulin antibodies are present in 10% of the normal population and >20% in thyroid cancer.
An increase in the anti-thyroglobulin antibody is indicative of antigenic stimulation, suggesting recurrence.
If these antibodies are present in the mother, there is an increased risk of hypo or hyperthyroidism in the fetus and the newborn.
Other thyroid autoantibodies form against microcosms and are called anti-microsomal antibodies; these are also advised to diagnose thyroid diseases.
A high titer of anti-thyroglobulin and anti-microsomal antibodies level of  >1:400 is found in Hashimoto's thyroiditis.

Thyroglobulin can be used as a tumor marker.

2/3 of the patient with thyroid cancer have raised the level of thyroglobulin.
Antu-thyroglobulin antibodies can also be used to monitor the residual disease or to find the recurrence.
Raised level of the Anti-Tg indicates the recurrence of the disease (cancer).
Table showing % of the antithyroglobulin antibodies in various diseases.
| Diseases | Antithyroglobulin Ab % |
| --- | --- |
| Normal male | 2 |
| Normal female | 10 |
| Hashimoto's Thyroiditis | 70 |
| Myxedema | 55 |
| Grave's disease | 55 |
| Nontoxic goiter | 5 to 50 |
| Thyroid cancer | 20 |
 Indication for antithyroglobulin antibody test (Clinical presentation):
If the patient has the following symptoms:

If there is weight gain without any explanation.
Patients have a history of fatigue.
History of constipation.
In the case of dry skin.
Normal
Source 2
Negative = Titer = <1:100

A small normal population may have an antithyroglobulin antibody.
5 to 10% normal population may show low titer.
Source 4
Anti-thyroglobulin = <1:100 (by haemagglutination).
Negative by ELIZA.
Negative by chemiluminescence.

10% of the population have low titer positive for the antibody without any symptoms of thyroid disease.

This low titer is common in women and the increasing age.

In some cases, this antibody production may be confined to the lymphocytes within the thyroid, resulting in negative serum tests.
Lab diagnosis of anti-thyroglobulin antibody:
There are different methods to detect anti-thyroglobulin antibodies like:
Passive hemagglutination.
The agar gel diffusion precipitation method.
Immunofluorescence of the tissue biopsy.
Enzyme-linked Immunoabsorbent assay (ELIZA).
Chemilucent based immunoassay.
The increased level is seen in:
Chronic thyroiditis like Hashimoto thyroiditis in the adult.

The titer is high >1:25,000 is strongly suggestive of Hashimoto's disease.
This autoantibody is positive in 50% of the cases of Hashimoto's thyroiditis.
The normal level of thyroglobulin antibody does not rule out Hashimoto's disease.

Chronic lymphocytic thyroiditis in children and young adults.
Graves' disease.
Hypothyroidism.
Atrophic thyroiditis.
Thyroid cancer
Thyrotoxicosis.
Myxedema.
Pernicious anemia.
Sjogren's syndrome.
Lupus erythematosus.
Table showing various thyroid diseases and autoantibodies:
Disease

Anti-thyroglobulin antibody

Anti-microsomal antibody

Antithyroperoxidase

antibody 

Long-acting thyroid

stimulating antibody (LATS)

Grave's disease
positive 30%
positive 60 to 80%
positive >70%
positive 100%
Hashimoto's thyroiditis
positive 70 to 90%
positive 80%
positive 100%
negative
Lymphocytic thyroiditis
positive 30 to 50%
positive 50%
positive
negative
Thyroid carcinoma
positive 20 to 50%
positive 15%
negative
Normal person
positive low titer
positive 5 to 10%
LATS consists of two antibodies:

TSI = Thyroid stimulating immunoglobulin.
TSH-R antibody = Thyroid hormone receptor antibody.
---