Alpha Fetoprotein – Maternal AFP, (α1- Fetoprotein ) and its Significance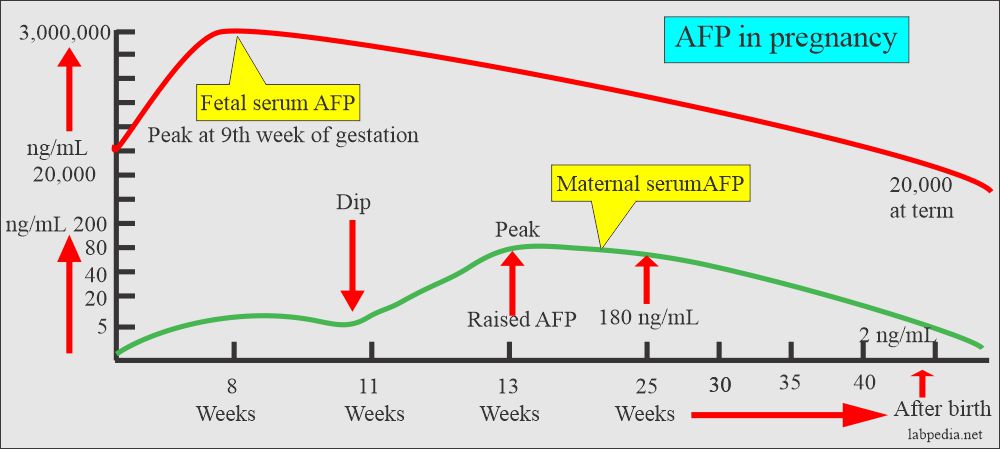 Sample
Pregnant mother serum is needed. It is stable for 24 hours at 2 to 8 °C.

Take 3 to 5 ml of blood in the disposable syringe.

Keep the syringe for 15 to 30 minutes and then centrifuge for 2 to 4 minutes. In this way,, can get a clear serum.
Precaution
Keep serum at 2 to 8 °C if the test is performed within 24 hours; otherwise, freeze it at -20 °C.
Indications
This is an effective screening marker for diagnosing body wall defects in the fetus, like neural tube defect,  spina bifida, or anencephaly.
AFP in average 25% to 30% has a low value in Down's syndrome.
This test is indicated in the pregnant ladies who have the following findings:

Female over the age of 35 years.
If there is a family history of birth defects.
If the lady has taken harmful medications during pregnancy.
Female with a history of diabetes mellitus.
Pathophysiology
Definition of Alpha-fetoprotein (AFP):
The fetal liver produces α1-globulin called alpha-fetoprotein (AFP).
AFP will become the dominant fetal protein in the first trimester, reaching the peak at 12 weeks of gestation.
It, later on, declines to 1% at birth.
Molecular structure and development of AFP:
AFP is a glycoprotein.

AFP (α1- Fetoprotein) has 40% carbohydrates with a molecular mass of 70 kD. This is also called

α1- Fetoprotein.

AFP

is an oncofetal protein (glycoprotein) synthesized in the fetal liver and yolk sac.
AFP is very stable in serum, even at room temperature, for as long as a week.
AFP gene is located on the long arm (q) of chromosome 4 (q11 to q22). This is part of the family gene for albumin and vitamin D-binding protein.

Some of the fetal

AFP

enters the maternal serum (circulation).
AFP is the dominant fetal serum protein in the first trimester.
It is very low at the age of one year.
Maternal AFP:
Maternal AFP rises progressively in the first and second trimesters.
Maternal serum reaches its peak at the 13th week of gestation, then declines rapidly to <2% of the maximum level by 34 to 36 weeks of pregnancy.
The AFP at the 8th week is very high; then there is a dip at 11 weeks and again peak at 13 weeks. Then fall in long-linear fashion till 25 weeks.
Maternal AFP is 5 ng/mL at the 10th-week of gestation, then increases 15% per week. At 25th weeks is 180ng/mL, then decline slowly until term.
After birth drops to 2 ng/mL.
Fetal AFP pattern:
AFP in the early stages is produced in the yolk sac and is small in quantity. Major quantity is produced by the fetal liver and yolk sac degenerates.
Early in embryonic life, AFP has a high concentration in the fetal serum.
The peak concentration is 3,000,000 ng/mL at 9 weeks of gestation. Then concentration declines steadily to 20,000 ng/mL at term.
In infants, the AFP level declines and reaches the adult level by the 10th month of life.
Functions of the AFP:
Amniotic AFP is more accurate in diagnosing

 neural tube defects

 in the early gestation (around 14 weeks) than maternal serum AFP.

Neural tubes defect varies from small myelomeningocele to anencephaly.
Other fetal body wall defects are:

Omphalocele.
Gastroschisis.
Before 14 weeks, AFP helps to diagnose neural tube defects.

Normal AFP <2.5 Multiples of median (MoM).
For the neural tube, the defect is >2.5 MoM.
If there is a body wall defect in the fetus,

AFP

leaks out into amniotic fluid and picked up by the maternal circulation.
If there is an increased level of

AFP,

 then further evaluated by repeated

AFP

, amniotic fluid

AFP

, and ultrasound.

The serum AFP level is 100 times of that amniotic fluid.

AFP is used to diagnose neural tube defects.
Raised AFP level may indicate multiple pregnancies, fetal distress, fetal congenital abnormalities, or intrauterine death.
Low AFP level may diagnose Down's syndrome (trisomy 21).
AFP used as a tumor marker.
Maternal serum screening of the AFP:
There is the possibility of 3% birth defects in the newborn.
Early detection of the fetus abnormality is the goal of maternal serum AFP estimation.
In most cases, AFP estimation is recommended during 16 to 18 weeks of gestation. The specimen is collected during 14 to 20 weeks of gestation.
If it is delayed, then decided to terminate the pregnancy is difficult, like elective termination of pregnancy.
In the case of neural tube defect, there is increased fetal amniotic fluid and mother serum AFP.

Maternal serum AFP was helpful to diagnose open neural tube defects.
90% of newborns with neural tube defect has no known risk factors.

In down's syndrome, the maternal serum AFP is low.
Tripple screening test done in the second trimester to find potential birth defect includes:

Maternal Serum AFP.
Maternal HCG.
Maternal Estriol level.
Normal values of AFP
| | |
| --- | --- |
| Maternal serum level AFP | |
| 14 weeks of gestation |  25.6 ng/mL (median) |
| 16 weeks of gestation |  34.8 ng/mL (median) |
| 18 weeks of gestation |  47.3 ng/mL (median) |
| 20 weeks of gestation |  64.3 ng/mL (median) |
| 21 weeks of gestation | 74.9 ng/mL (median) |
| Fetal serum level AFP | |
| First-trimester peak | 200 to 400 mg/dL |
| | later on, fall 1% from the peak |
| Cord blood | <5 mg/dL |
| Adult AFP | |
| 97% of the healthy population | <8.5 ng/dL |
| 100% of the healthy population | <15.0 ng/dL |
Source 2
Adult = <40 ng/mL (<40 mcg/L)
Child (<1 year) = <30 ng/mL
Another source
25 ng/mL (25 µg/L).
At 15 to 18 weeks of gestation = 10 to 150 ng/mL (10 to 150 µg/L).
Raised AFP level seen in:
Maternal serum level >2 times the median level will be seen in:

Multiple gestations (multiple pregnancies).
Fetal death.
Malformations e.g, open neural tube defects like anencephaly, open spinal Bifida, encephalocele, and myelocele.

80% of the cases are diagnosed by AFP level (hydrocephaly, and microcephaly).

Increased

AFP

concentration in maternal serum and amniotic fluid is seen in:

Open neural tube defects like anencephaly, spina bifida, omphalocele, esophageal or duodenal atresia.
Threatened abortion.
Fetal distress.
Intrauterine death of the fetus.
Fetal congenital abnormalities.
Abdominal wall defects like gastroschisis.

Other conditions for raised AFP are:
Renal abnormalities

Cystic hygroma.
Hydrops fetalis.
Turner syndrome.
Bowel obstruction.
Twins.
Feto-maternal hemorrhage.
Sacrococcygeal Teratoma.
Esophageal or duodenal atresia.
Renal disorders like polycystic kidney, renal agenesis, and urethral obstruction.
Tetralogy of Fallot.
Oligohydramnios.
Turner syndrome.
Placental causes like thrombosis, infarction, very large placenta, and cystic changes.
Maternal causes like tumor-producing AFP and hepatitis.
Decreased maternal serum AFP is seen in:
Down syndrome (Trisomy 21).
Long-standing death of the fetus.
Molar pregnancy (Hydatidiform mole).
Choriocarcinoma.
Spontaneous abortion.
Overestimated gestational age.
Pseudopregnancy.
A low level of AFP with an abnormal value of HCG and estriol (Triple screening) is indicative of :

Trisomy 21 (Down's syndrome).
Trisomy 18 (Edwards syndrome)
Or other chromosomal abnormalities.
Women with diabetes mellitus have 20% to 40% lower values than nondiabetic women.
Markers to detect fetal abnormalities:
| | | | | |
| --- | --- | --- | --- | --- |
| Clinical presentation | Maternal AFP | Maternal HCG | Estriol (unconjugated) | The success rate of detection |
| Open spina bifida | Increased (+++) | Negative | Negative | 80% |
| Anencephaly | Increased (++++) | Negative | Negative | 95% |
| Abdominal wall defect | Increased (+++) | Negative | Negative | 75% |
| Down's syndrome (Trisomy 21) | Decreased | Increased | Decreased | 60% |
| Trisomy 18 | Markedly decreased | Markedly decreased | Markedly decreased | 60% |
---