Helicobacter Pylori, H.pylori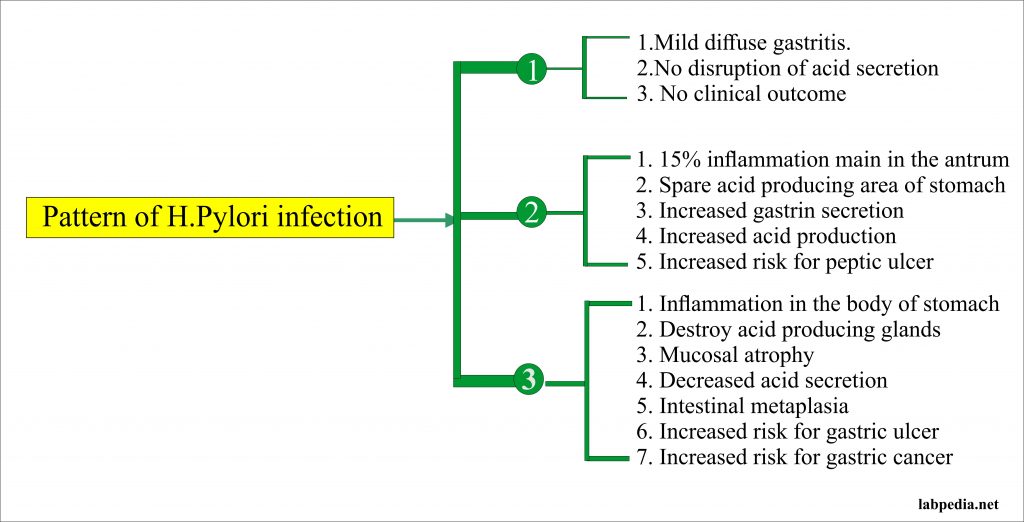 Sample
It is done on the serum of the patient by various methods like

ELISA

.
H.pylori can be diagnosed with a duodenal biopsy.
H.pylori sample can be cultured.
Various sample available are :

Serum. for specific antibody. This is a noninvasive method and easy to perform. This antibody appears after 2 months of infection and remains elevated for more than a year after the treatment.

Types of antibodies:

IgG – anti-H.pylori
IgA – anti- H.pylori.
IgM – anti-H.pylori

Biopsy. These bacteria can be seen in the gastric mucosal biopsy. (Giemsa stain shows these bacteria). This is a more specific and confirmatory test.
Culture. A sample of mucus can be obtained through a gastroscope for culture.
Rapid urease test. For this test, the sample can be gastric mucosa or gastric mucus.
Breath test. This detects gastric urease and measures CO2 in the breath. The patient needs to be at rest for this test.
The stool is examined for the H.Pylori antigen. Try to do the test on the fresh sample.
Precaution
For culture stop antibiotics, antacids, and bismuth therapy 5 to 14 days prior to the procedure.
Purpose of the test (Indications)
These tests are used to diagnose H.Pylori infection.
In the patient with chronic gastric or duodenal ulcers.
Pathophysiology
This is a small gram-negative, spiral rod bacillus, discovered in 1982.

Helicobacter pylori (H.pylori) was known as Campylobacter pylori.
These are strongly urease positive.

This bacteria causes gastritis, gastric and duodenal ulcers.

This may even cause an oesophageal ulcer.

This bacteria is also associated with gastric carcinoma.
H.pylori is lying in the mucous of the gastric mucosa.
This bacteria is positive:

95 to 98 % of the patient with a duodenal ulcer (another reference say 100%).
70% positive in gastric ulcers.
This is also seen in gastric ulcers in 60 to 70% of the patient.
20 to 25 % of the patient with gastric cancer are positive for H.Pylori.
10% of healthy people in the younger age group around 30 years are positive for H.pylori.
Positivity of H.pylori increases with increasing age.

Gastric colonization by H.pylori increases with age.
Most of the people with H.Pylori colonization are asymptomatic.
Pathogenesis of Ulcer
These bacteria enter the body and damage the lining of the stomach mucosa.
The stomach mucus protects the mucosa from the acid (HCl).
When these bacteria cause damage to mucosa then acid can get through the lining and leads to ulcer formation.
These bacteria may be dormant and the patient may be asymptomatic.
Mode of spread
Its transmission is person to person.
These bacteria can enter the body from :
Food.
water.
Utensils.
Saliva and body fluids through close contact.
Clinical presentation
In the case of acute infection:

There are nausea and abdominal pain.
This may be lost for many days.
Histologically there is gastritis with infiltration by neutrophils.

The above stage may go into a chronic stage.

There is diffuse mucosal involvement (chronic gastritis).
There is the infiltration of neutrophils and lymphocytes.
Chronic H.pylori infection with gastritis may be seen in 30 to 50% of the patients and these may be asymptomatic.

The pattern of H.pylori infection:
Chronic H.Pylori infection outcome is:

10% develop a duodenal or gastric ulcer.
0.1 to 3% develop gastric cancer.
0.01% develop B-lymphocytes lymphoma called MALT, mucosa-associated lymphoid tissue lymphoma.
Normal
H.pylori antibody
The negative antibody by EliZA indicates that there is no infection.
The positive antibody test indicates IgG-H.pylori antibody in serum.
Lab Diagnosis
The gold standard for the diagnosis is the endoscopic biopsy.
Culture takes several weeks before the final result comes.
Rapid Urease test. This bacteria produces urease enzyme which acts on urea. This can be done on:

Gastric mucosa tissue.
The gastric mucosa is placed on the paper and its color will change.
The special tablet is placed in the test tube and then gastric mucosa is added.

Serum antibody test.

The anti-IgG H.pylori is most commonly used.

Its level rises after two months of infection and remains raised for a year or so after the treatment.

The anti-IgM rises first in about 3 to 4 weeks after the infection.

It disappears in 2 to 3 months after the treatment.

By ELIZA: Antibodies are positive in almost 100% of the duodenal ulcer.

80% in the gastric ulcer.
Positivity increases with increasing age.
Positive results do not confirm the diagnosis but negative results rule H.pylori infection.

H.pylori antigen is done on the fresh stool.
The breath test is noninvasive based on that H.pylori can produce CO2 by the urease test acting on urea. The patient is given radiolabel C13.
Raised level of Antibody seen in:
Acute and chronic gastritis.
gastric ulcer.
Recurrent duodenal ulcer.
Carcinoma of the stomach.
Table showing the outcome of H.Pylori infection
| Outcome | Disease |
| --- | --- |
| >80 % | Asymptomatic gastritis |
| 5 — 15 % | Peptic ulcer |
| 0—10 % | Symptomatic gastritis |
| 1 — 3 % | Gastric carcinoma |
| 0.5 % | Gastric lymphoma |
The common test used to diagnose H.Pylori infection
| Diagnostic test | Interpretations |
| --- | --- |
| Invasive, Endoscopy |  the gold standard to confirm |
| Culture | can detect the organism |
| Urease | Simple and quick |
| Noninvasive | |
| Serology | inexpensive and consistent |
| C13 urea breath test | less expensive and safer |
Treatment
Usually, a gastroenterologist advises the tripple regime.

Mostly clinicians advised Amoxicillin, clarithromycin, and PPI.
Some advised clarithromycin, metronidazole, and tinidazole.

In addition, proton pump inhibitors and H2 blockers are advised.

Avoid non-steroidal anti-inflammatory drugs.
---