Electrolytes – Part 4 – Sodium and Potassium (Na+ and K+), ECG changes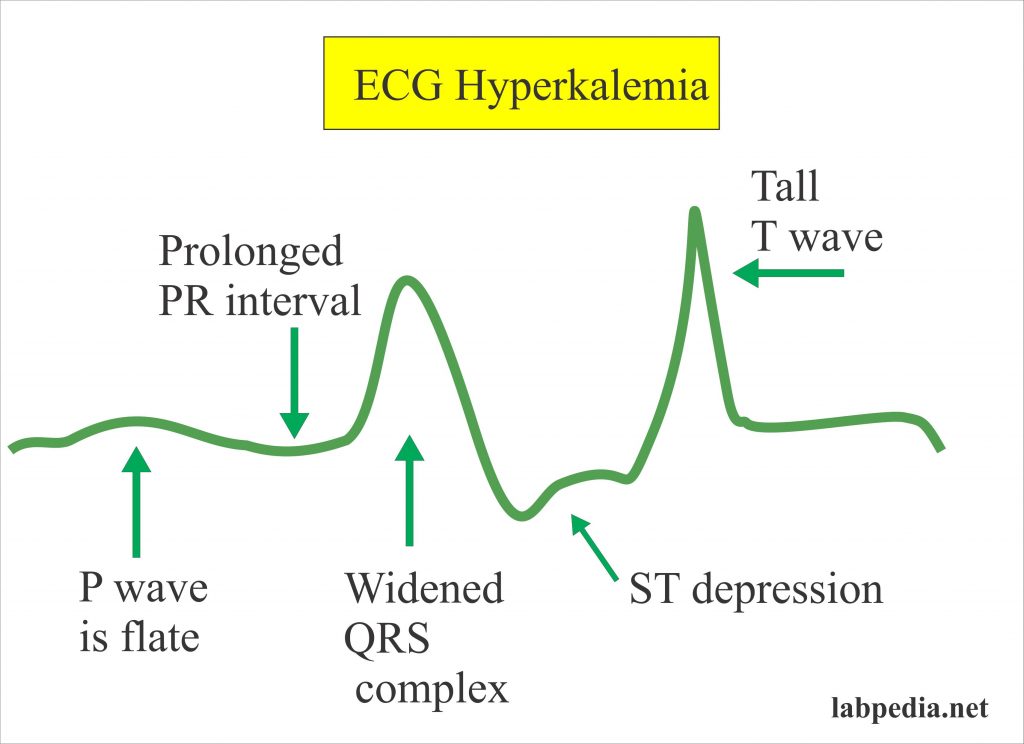 Sample
This test is done on the serum of the patient.
No special preparation is needed.
Sodium and Potassium are Stable in blood at room temperature for one hour and in Serum at 2° C to 8 °C for 24 hours.
Other references say that stability is one week at room temperature or 1°C to 4 °C.
The plasma may be used (heparinized).
Precautions
Avoid hemolysis which has a dilution effect.
No preservative is needed for the urine sample.
Avoid sodium heparin.
Indication
For electrolyte imbalance evaluation and monitor therapy.
In diuretic therapy to find the K+ level.
In dehydration to know the level of Na+ and K+.
In severe vomiting and diarrhea to find the level of Na and K+.
Potassium is very important in serious patients and patients with diuretic therapy and heart medication.
Normal
Sodium: 136 to 145 meq/L
Potassium : 3.5 to 5.5 meq/L
Pathophysiology
Sodium
Sodium is the major extracellular cation with a serum level of 140 mEq/L and the intracellular level is 5 mEq/L.
Extracellular osmolality depends upon sodium.
The sodium level in the blood depends upon the dietary intake and excretion by the kidney.
The loss in the sweating of sodium is minimal.
Aldosterone regulates sodium by increasing reabsorption of sodium and decreasing its loss by kidneys.
Antidiuretic hormone

ADH

controls the resorption of water at distal tubules, and effect sodium serum level by dilution or concentration.
Physiologically sodium and water are interrelated. If body water increases then sodium level will be diluted and decreases in amount.
If the water contents of the body decreases then sodium will increase in the blood.
Dietary sodium 90 to 250 mEq/L is needed to maintain the sodium level.
Hyponatremia when the sodium level is less than 125 mEq/L
Hyponatremia symptoms are a weakness.
Hyponatremia level when falls below 115 mEq/L,  then the patient goes into confusion and lethargy. This condition may progress to stupor and coma if the sodium level keeps on lowering.
Hypernatremia leads to dryness of mouth, thirst, agitation, restlessness, hyperreflexia, mania, and convulsions.
Drugs increasing sodium level are anabolic steroids, antibiotics, corticosteroids, cough medications, laxatives, methyldopa, estrogen, and oral contraceptives.
Drugs leading to decreased levels are diuretics, sodium-free I/V therapy,

ACE

inhibitors, captopril, sulphonylureas, haloperidol, nonsteroidal anti-inflammatory drugs, and vasopressin.
Potassium
Potassium is the major intracellular cation with a concentration of 150 mEq/L and the extracellular is 4 mEq/l.
Potassium is important to maintain the membrane electrical potential, especially in the neuromuscular tissues.
The potassium amount is small in the serum, so the even small change in concentration have significant changes.
Potassium is excreted by the kidney but this is not resorbed by the kidneys.
If there is a deficiency in the intake of potassium in the diet, or by I/V therapy, then there will be a drop in the potassium level.
Potassium has an important role in protein synthesis and maintenance of oncotic pressure.
Potassium also maintains the cellular electrical neutrality.
The kidney can shift potassium for hydrogen ions concentration to maintain physiological pH.
Serum potassium concentration depends upon:

Aldosterone increases the loss of potassium.
Sodium is reabsorbed and potassium is lost.
Alkalosis lower sodium by causing the shifting of potassium into the cell. While acidosis tends to raise potassium by shifting by reversing the shift.
Hypokalemia When there is a decreased level of potassium that will lead to:
Decreased contraction of the muscles ( smooth, skeletal, and cardiac ).
There are weakness and paralysis.
There is hyporeflexia.
There is ileus.
There is an increased sensitivity to digoxin.
There are cardiac arrhythmias.
There is a flattened T wave and prominent U wave.
Hyperkalemia will lead (Sign/Symptom) to:
Irritability.
Nausea and vomiting.
Intestinal colic and diarrhea.

ECG

shows a peaked T wave and widened

QRS

complex.
There are depressed ST segments.
Drugs leading to increased potassium levels are:
antibiotics.
Antineoplastic medicines.
Histamine.
Heparin.
Isoniazid

INH

.
Potassium-sparing diuretics.
Drugs leading to decreased potassium level are:
Glucose infusion.
Aminosalicylic acid.
Insulin.
Laxatives.
Aspirin.
Note: Sodium and potassium discussed separately.
---