Diabetes Mellitus:- Part 3 – Glucose after 2 hours of meal (postprandial)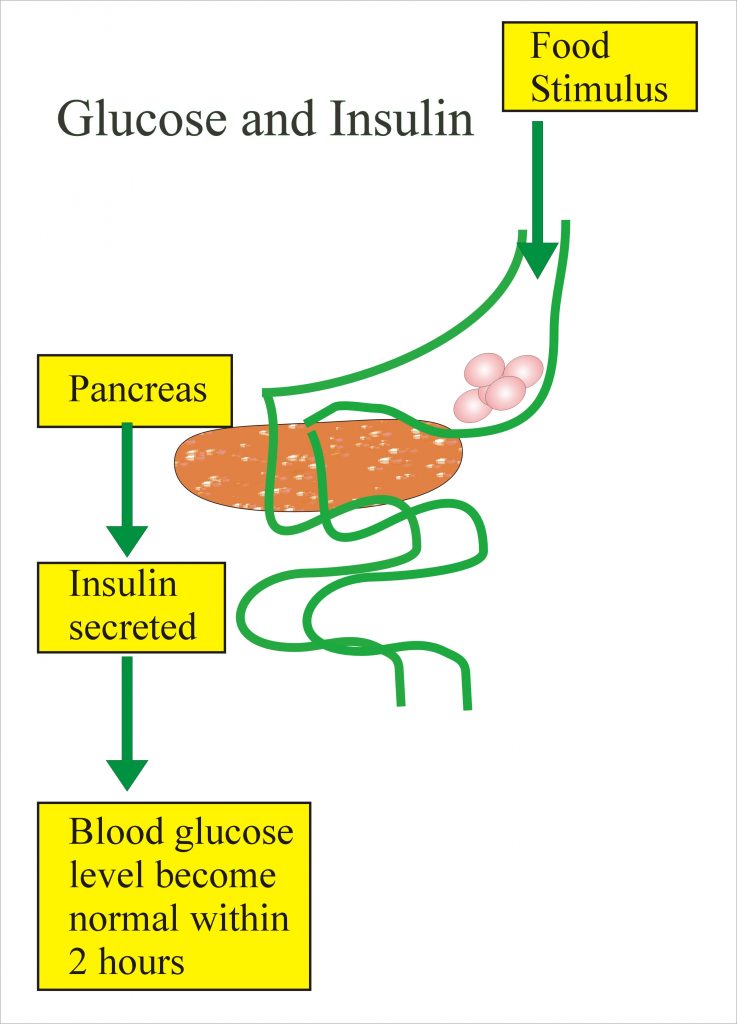 Sample
The test is done on the serum of patients or oxalate blood.

When the test is done on Serum. The serum should be separated within 30 minutes of collection.

The serum can be stored at 25° C for 8 hours and 72 hours at 4 °C.
Oxalate blood can also be used. Preservative sodium fluoride may be added.

The plasma can be stored at 25 °C for 24 hours (when there is preservative sodium fluoride).
Precautions
In the case of fluoride as a preservative, a decrease of 9 mg/dL is seen during the first 2 hours.
The whole blood glucose level is 90% of the plasma glucose.
Pathophysiology
Carbohydrate metabolism, and interaction between carbohydrates, fats, and proteins.
Definition of 2 hours of glucose level:

It will give you the glucose tolerance of the body after 2 hours of a meal.
Meal acts as a glucose challenge for body metabolism.
Insulin is secreted in response to increase glucose levels that are due to food intake.
Blood glucose will be normal within 2 hours.
In diabetic patients, glucose level will remain elevated.
Postprandial glucose level is a screening test for DM.
If glucose level is >140 mg/dL and <200 mg/dL, then

GTT

(glucose tolerance test) is advised.
If level after 2 hours = >200 mg/dL  diabetes mellitus is confirmed.
Advise HbA1c for further evaluation.
Normal 2 hours (postprandial) glucose level:
Source 1
<120 mg/dL

To convert into SI unit x 0.0555 = mmol/L
Source 2
0 to 50 years = < 140 mg/dl (<7.7 mmol/L)

and some believes <120 mg/dl ( < 6.66 mmol/L).

For people age 50 and younger = < 140 mg/dL (7.8 mmol/L).
For people ages 50 – 60 = <150 mg/dL (8.3 mmol/L).
For people aged 60 and older = <160 mg/dL (8.9 mmol/L)
The latest criteria for Diabetes Mellitus:
The level of 200 mg/dl or

Above 200 mg/dl after 75 gram of glucose overload or

Two casual reading of glucose 200 mg/dl or above is labeled as a Diabetic patient.

This test is not recommended because of the many factors that influence the result.
| | | | | |
| --- | --- | --- | --- | --- |
| Diagnosis | Fasting glucose level | Random glucose level | 2-hour glucose level (in OGTT) | HbA1c  |
| Prediabetics | 100 to 125 mg/dL | 140 to 199 mg/dL | 140 to 199 mg/dL | 5.7 to 6.4% |
| Diabetes mellitus | > 126 mg/dL | >200 mg/dL | >200 mg/dL | >6.5% |
Please for more details on Glucose see in Glucose fasting level
---